Aircraft carrier bill to increase by £500m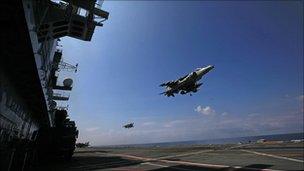 The cost of building two Royal Navy aircraft carriers is to increase by more than half a billion pounds, according to the defence secretary.
Liam Fox said the price is rising by at least 10% due to changes in the design.
The carriers are being built at several shipyards around Britain and assembled at Rosyth in Fife.
They have already risen in price from £4bn to more than £5bn, partly because the former Labour government chose to delay the project by two years.
In the defence review announced last week, the coalition government opted to continue the work because it was more expensive to cancel the ships than to continue.
But it decided to change the aircraft being used on them, requiring a change to the ramp and the fitting of catapult and arrestor equipment.
It was also announced that the first ship, to be called HMS Queen Elizabeth, would not be operational until 2020, four years after the previous plan, with one ship later being mothballed or sold.
Dr Fox said, during a visit to the Govan shipyard on the Clyde, that it will cost more than £500m to make the required changes to the design. With most of the work to be done on the decks, that will mean changes to the workload and timescale for yards on Tyneside and Merseyside.
He told BBC Scotland: "There are estimates of the cost, ranging upwards from £500m. There are a lot of studies going on, which will determine exactly what system, what costs and where.
"But for me, the important thing was that we made this change to give ourselves a greater range in terms of the aircraft we could operate, a bigger payload for the aircraft, and greater inter-operability with our major allies.
"And if we're going to have this for something that's going to last us 40 or 50 years, we should take the time to get it right".
Related Internet Links
The BBC is not responsible for the content of external sites.