Alex Salmond calls UK green levy offer 'giant swizz'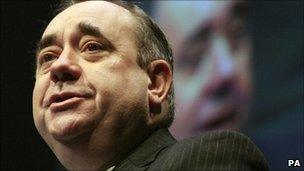 First Minister Alex Salmond has attacked an offer by the UK government to grant Scottish ministers access to funds earmarked for green projects.
UK ministers have agreed to free up £250m of Scotland's fossil fuel levy, raised by taxing energy firms.
The money will be made available for renewable energy projects but in return, the Treasury would take money out of the Scottish budget.
Mr Salmond described the move as a "giant swizz".
In a letter to Prime Minister David Cameron, Mr Salmond has expressed "bitter disappointment" at the UK government's refusal to give Scottish ministers immediate and unconditional access to the levy.
The fund, currently worth nearly £200m, is held in London but can only be spent to promote the use of energy from renewable sources in Scotland, according to UK legislation.
The UK coalition government last week made an offer which would have seen up to £250m put into a planned green investment bank.
The Scotland Office said it was a practical plan and urged the SNP administration not to close the door on green investment.
But Mr Salmond accused the Treasury of a "sleight of hand", saying that accessing the fund now would lead to a corresponding cut in the Scottish block grant, known as the departmental expenditure limit.
Mr Salmond suggested investment in ports and renewable energy schemes could suffer.
He said: "I'm not going to talk about individual projects, but clearly if you don't have £200m you had every reason to expect you were going to have, that has consequences.
"We're not going to sit and watch investments that should have come to Scotland go elsewhere."
Mr Salmond said there had been "every indication" from Downing Street that the money would be released until the past few weeks.
"It could only be described as a giant swizz," he added.
His comments came just hours after the plan was branded a "conjuring trick" and a "con" in the Scottish Parliament.
During a Lib Dem debate on the issue, Climate Change Minister Stewart Stevenson said the proposals were not in Scotland's interests.
A Scotland Office spokesman said: "We have a practical plan to free up ring-fenced investment for Scottish renewables for years to come.
"If the Scottish government draws down the levy and spends it on renewable projects in Scotland, the UK Government will provide an additional £250m in Scottish funding from the Green Investment Bank.
"This goes further in providing dedicated funding for renewable projects than anticipated."
He added: "If the Scottish government co-operates we can unlock Scotland's renewables potential. We hope that they will not close the door on the future of Scotland's green economy."
Related Internet Links
The BBC is not responsible for the content of external sites.