Climate measures 'bring benefits'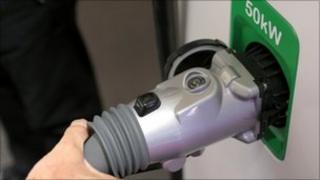 Scots could see major health and economic benefits if it makes the changes necessary to hit ambitious carbon emission targets, Friends of the Earth Scotland has said.
It claimed that thousands of jobs could be created and early deaths avoided through changes to energy use in homes and transport.
FoE Scotland said targets for cutting emissions were still within reach.
But it said there would have to be some tough political choices.
The organisation said the ambitious target of a 42% reduction in the 1990 levels of emissions linked to climate change would need some significant action.
It said there would have to be a significant shift to electric cars, powered from renewable energy sources.
And it cited the Scottish government's own assumptions that road pricing would be necessary.
For the heating of homes and businesses, which accounts for about half of Scotland's energy use, it said there would have to be a shift to more efficient systems and insulation.
It also looked to less meat-eating to reduce the high carbon cost of producing it.
The cost to the Scottish government alone has been estimated by officials at £8bn, putting pressure on politicians when budgets are tightening.
But the green campaign group argued that the benefits should be seen as more than environmental.
It said better insulated homes would help lift people out of fuel poverty.
That could cut health service costs of treating anxiety and depression.
Drawing on one survey assessing the impact of an insulation and boiler replacement programme, it claimed as many as 180,000 such cases could be avoided throughout Scotland.
It also said that people living in poorly-heated homes would face fewer problems with asthma and respiratory problems, also saving money for the NHS and for employers who would have less absence through illness.
The lobbyists calculate thousands of early deaths each year could be avoided through improved air quality.
And it said that more cycling, alongside less meat consumption, would help reduce the costs to the health service and the economy more widely of Scotland's obesity problems.
There was also a case made for a scheme to scrap older buses, and replace them with buses partly powered by electricity.
It is argued this could reduce emissions and create jobs for companies where the new buses are made, such as Alexander Dennis in Falkirk.
Duncan McLaren, of Friends of the Earth Scotland, said: "At a time of austerity, it might seem that we should downgrade our ambitions, but actually the dividends from ambitious climate action are many: jobs, better health and less social exclusion."
He added: "With the Scottish government's budget coming in a couple of weeks time, it must include adequate measures and funding for them, setting out year-by-year the cuts they think they're going to deliver and the spending required.
"There are clearly tough political decisions here, and it will need cross-party support.
"It's incumbent on all those MSPs who voted for the Climate Change Act to vote for challenging measures which might involve regulations to improvements in the housing stock at point of sale or rental."