Prince seals a 'match made in St Andrews'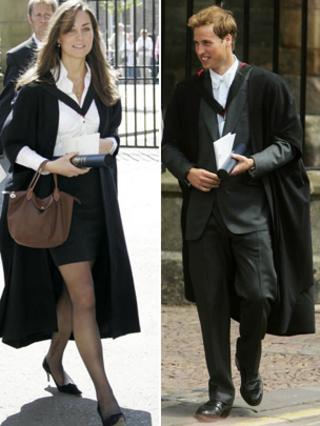 When Prince William opted to study at the University of St Andrews in 2001, finding a future queen may not have been at the front of his mind.
But when he decided to marry Kate Middleton he joined a notable cohort of alumni from Scotland's oldest university.
St Andrews prides itself as "Britain's top match-making university".
At the prince and Kate's graduation ceremony in 2005 their university principal Brian Lang gave a speech saying one in 10 students could expect to go on to marry a fellow student.
He added: "You may have met your husband or wife."
Prince William and Kate's romance really was "a match made in St Andrews", as Scotland's First Minister Alex Salmond, another graduate of the university, declared on Tuesday.
The pair met in September 2001 when they studied art history together, although the prince later switched to geography.
In their second academic year, the prince and Kate began sharing a four-bedroom house in the town with two other students.
A year later all four moved into a cottage outside the town.
Former students can testify to the power of St Andrews as a place to find a spouse.
Amy MacBrayne, 30, from Aberdeen, graduated with a degree in English in 2002 and remembers seeing Prince William riding his bicycle around the campus.
But she had her eye on a young medical student, James, whom she later married in the university chapel.
House parties
She said: "I remember being told in one of my first lectures this ludicrous statistic about the number of students who go on to marry St Andrews graduates. I thought 'that will never be me'.
"A lot of people I know are still with people they met there.
"Student life is not very romantic, but at St Andrews it is small and villagey so there are a lot of house parties. You get to know people better than if you're just going to nightclubs."
PR manager Naomi Owen, 33, from Edinburgh but who now lives in London, met her husband Simon in a medieval history class. She said the close student community made it easy to form close friendships.
"Because it is a campus university everybody gets to know each other very well," she said.
"It's very intense. You are in each other's pockets all the time."
Mrs Owen, who graduated in 1998, added: "There's not really much to do other than study and go to the pub and you tend to socialise with other students.
"But you are there for four years so it is a steady time when you can make lasting relationships, whether as friends or partners."
For the university, news of a royal wedding between two of its graduates coinciding with its 600th anniversary year is welcome news.
A spokeswoman said: "St Andrews is a special place - one in 10 of our students meet their future partner here, and our title as Britain's top match-making university signifies so much that is good about this community.
"2011 will see the launch of our 600th anniversary celebrations and we will be proud to share our anniversary with the royal couple.
"We hope that they will take the opportunity to return to Scotland and join us in celebrating the romance of St Andrews."