Tributes to Scottish men feared dead in New Zealand mine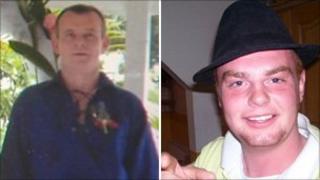 The Queen has passed on her condolences after 29 men, including two Scots, are believed to have died in a mining blast in New Zealand's south island.
A second blast hit the Pike River mine overnight and police have said there is now no hope of survivors. The first explosion hit the mine on Friday.
Among the 29 men are Peter Rodger, 40, from Perth, and Malcolm Campbell, 25, from St Andrews.
The Queen said her heart went out to the families and friends of the miners.
Britain's Prime Minister David Cameron said everything was being done to support the relatives.
And First Minister Alex Salmond said he had written to the prime minister of New Zealand expressing the "deep condolences" of the Scottish people to the families of the men killed.
"Although Scotland no longer has deep mining facilities, mining communities all over the country share a deep affinity with those who risk their lives to secure vital energy supplies," he said.
"This tragedy has a deep resonance with the people of Scotland and we extend our deepest sympathies to all affected."
Second explosion
Mr Campbell had worked at the mine for two years and was due to marry his 23-year-old fiancee, Amanda Shields, on 18 December.
Former Perth Grammar pupil Mr Rodger, who previously worked on oil rigs, moved to New Zealand two years ago to be near his mother and sister who had emigrated there.
Families of the victims were informed of the second explosion at a regular daily briefing on the progress of the rescue mission.
Following the news, the Queen said: "My heart goes out to the families and friends of these 29 brave miners and to all who have been touched by this national disaster.
"I send my thanks and deep appreciation to everyone who has worked so hard to attempt a rescue and also to those who will have a part to play in the task of healing the pain that is being felt throughout New Zealand and around the world.
"At this sad and difficult time my thoughts and prayers are with you all."
Mr Cameron told MPs during Prime Minister's Questions: "It is immensely sad what has happened.
"I spoke to New Zealand Prime Minister John Key this morning and our thoughts, I know in the whole House, will be with the 29 miners who lost their lives and their families, and particularly Peter Rodger from Perth and Malcolm Campbell from St Andrews.
"I know our High Commission and the consular officials are in touch with their families and doing everything to help at what must be an impossibly difficult time."
Deadly gases
John Daniel, 59, from Perth, lived next door to Mr Rodger before he moved to New Zealand.
He said: "It's a terrible waste. We just can't get his smiling face out of our minds.
"He was an excellent neighbour. He was working away a lot on the rigs and I was working away overseas at times and we used to look after each other's houses.
"He always had a cheerful word for you. He was great."
Ian Jones, rector of Mr Campbell's former school, Madras College in St Andrews, said there was an air of despondency across the campus, where the miner's aunt also works.
"Staff remember Malcolm as a very friendly, cheerful boy, who was very hardworking," he said.
"Our sympathies lie with his parents, fiancee and family at this very difficult time."
Pike River mine chief executive Peter Whittall said the rescue teams were not doing anything that could have triggered the second blast.
"It was a natural eventuation, it could have happened on the second day, it could have happened on the third day," he said.
Oxygen low
Two workers emerged from the mine within hours of Friday's explosion but there was no contact with the remaining group. A phone line deep inside the mine had gone unanswered.
Rescuers became increasingly pessimistic about the chances of finding the men alive in the network of tunnels one and a half miles deep.
The workers, aged 17 to 62, carried 30 minutes of oxygen, and more fresh air was stored inside the mine, along with food and water.
A drilling team broke through on Tuesday to the section of mine where the men were working, but it encountered a blast of potentially deadly gases.
Hot air and gas rushed through the hole when the chamber roof was punctured and Mr Whittall said initial tests showed it was "extremely high in carbon monoxide, very high in methane and fairly low in oxygen".
Explosive methane is believed to have caused Friday's blast.