Accounts Commission highlights SPT 'expenses abuse'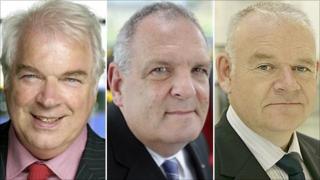 A report into expenses at Scotland's largest public transport authority, SPT, has found a "culture" of "serious deficiencies" among senior officials.
The Accounts Commission probe also said a trip to Manchester on the day Rangers played in the Uefa Cup Final was an "unacceptable use of public cash".
It also welcomed action SPT had since taken to overhaul expenses procedures.
The financial watchdog was called in after an expenses scandal earlier this year prompted three resignations.
Controversy engulfed Strathclyde Partnership for Transport (SPT) in February when documents obtained under Freedom of Information showed its officials claimed more than £100,000 in expenses between 2006 and 2009.
The organisation was criticised when it emerged that several officers and elected officials had gone on expensive "fact-finding" foreign trips.
There were also questions about expense claims from officials who had organised a meeting with Greater Manchester Passenger Transport Executive on the day of the Uefa Cup final in 2008 between Rangers and Zenit St Petersburg.
As the scandal gathered pace, Glasgow Labour Councillor Alistair Watson stood down for health reasons as SPT's chairman.
He was followed days later by South Lanarkshire Labour councillor Davie McLachlan, who resigned as vice chair, and Ron Culley, who stepped down as chief executive.
In May, it was confirmed that SPT's communications director Bob Wylie had left his post before it was due to be cut in a management shake-up.
Mr Wylie had been one of the officials to claim expenses over the meeting in Manchester in 2008.
A subsequent audit by KPMG, published in June, said the organisation's former management had claimed "excessive" expenses and that credit card receipts had been "shredded".
The auditor's report said £32,000 spent on SPT's corporate credit card remained unaccounted for.
It also suggested a three-day trip by management to Manchester in 2008 had been arranged to coincide with Rangers' Uefa Cup final appearance.
Almost £40,000 was also spent on trips to New York, India and Dubai.
Failing standards
The Accounts Commission's report into the scandal has now found "serious deficiencies" in the way travel expenses were controlled and managed.
Commission chair John Baillie said: "A number of trips and expenses claims give cause for concern about the judgement of those involved.
"There appears to have been a culture and behaviour by some of SPT's most senior elected members and officers at the time that fell well short of what is expected of those holding public office and overseeing public funds."
The commission's report welcomes the tightening of procedures in the wake of the scandal and notes the changes in membership and senior management at SPT.
But its report states: "The commission and the controller of audit conclude that the circumstances of the visit to the Greater Manchester Passenger Transport Executive constituted an unacceptable use of public money and SPT should seek repayment of all expenses associated with this visit."
The report recommends that future travel expenses meet value for money requirements and consideration should be given to staff training.
It adds: "They need to be clear about the revised policies and procedures and able to demonstrate good governance, including effective scrutiny and challenge, in the discharge of their roles."
SPT said it welcomed the opportunity to make a progress report within six months on the many changes it had made.
The authority's chair, Jonathan Findlay, said: "The Accounts Commission report recognises that SPT has taken strong action with regard to its findings.
"Value for money, scrutiny and authorisation controls are already in place in line with SPT's internal audit work.
Expenses repaid
"However, we have gone further than that and approved even tighter internal controls for expenses and travel approvals.
"An example of that is the publication of members and directors' expenses online. SPT will continue to monitor and review all internal procedures and controls."
Mr Findlay said that "all identified personal expenditure" associated with the controversial visit to Manchester in 2008 had already been recovered.
BBC Scotland understands that a total of £290 has been repaid to SPT by Mr Wylie and Mr McLachlan.
The Accounts Commission report into SPT has prompted strong responses from some of the main political parties.
Scottish Conservative transport spokesman Jackson Carlaw said: "The Scottish taxpayer has been taken for a ride, as the full scale of SPT's former profligacy, and jobs-for-the-boys culture, has become clear over the course of this year.
"Everyone involved should be ashamed of themselves for treating the taxpayer with such disrespect."
SNP Glasgow MSP Sandra White said: "While SPT bosses were living it up on our money the transport system in this city was getting worse.
"The pay-offs and deals done to get those responsible at SPT out of the door must now be investigated by parliament's audit committee."
Scottish Liberal Democrat transport spokeswoman Alison McInnes said: "Some of the most senior staff and elected members of SPT at the time presided over a culture of misusing public funds. That is totally unacceptable.
"The public has a right to expect public servants, both elected and appointed, to act with probity."