Wintry weather set to continue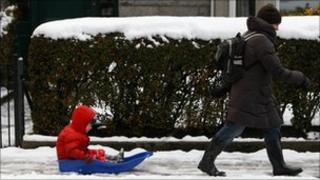 Severe weather warnings have been issued for much of Scotland as the icy weather continues into Saturday.
The worst of the snow so far has been in the north and north east, where ice resulted in adverse conditions on the roads and school closures.
The latest warnings were for Orkney and Shetland, the Highlands, Grampian, Central, Tayside, Fife, south-west Scotland, Lothian and Borders.
The Met Office said heavy snow showers would drift off the North Sea.
Accumulations of snow between 5cm (2in) and 15cm (6in) were expected.
Forecasters said ice would become widespread on untreated roads.
Treacherous conditions
Earlier, Grampian Police described driving conditions as treacherous and many roads had to be closed.
Northern Constabulary said all roads in the region remained open, with main roads treated overnight.
However they also warned drivers to exercise extreme care.
Aberdeenshire Council had to close 150 schools due to the snow and ice.
The coldest recorded temperature on Friday was in Carterhouse in the Scottish Borders, at -7.8C.
The Scottish government said it was ensuring that the necessary precautions were in place for communities across the country.
Speaking after he chaired the second Scottish government resilience committee meeting of the current cold snap, Justice Minister Kenny MacAskill said: "Snow and freezing conditions are having a significant impact on roads, schools and communities in general across large areas of the North East, the Highlands, the Borders and other parts of eastern Scotland.
"We know that more than 200 schools had been closed or affected by transport problems across five local authority areas and that a number of roads have been closed due to the heavy snowfall.
"The latest Met Office advice, however, is that it looks likely that as well as the areas already affected, other parts of Scotland, including the east central parts of the country, will also be affected as we move into next week."