Flood risk information issued across Scotland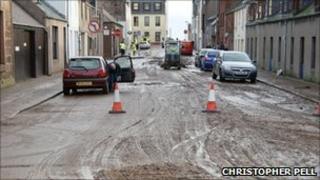 Thousands of homes across Scotland are to receive information leaflets as part of a campaign highlighting the risks of flooding.
The Scottish Environment Protection Agency (Sepa) is targeting houses and businesses in flood risk areas.
The aim is to encourage people to make sure they know what action they need to take to protect themselves and their property.
Millions of pounds of damage was caused by flooding in Stonehaven last year.
An educational play, which teaches and encourages flood preparation, will also be performed in a number of primary schools.
Prof James Curran, Sepa's director of science and strategy, said: "Flooding is a fact of life but having access to good quality advice and guidance helps people better prepare and reduce its impact on their lives.
"This is exactly why we are sending information straight to hundreds of properties where flood risk is a reality, so they can be aware and take action.
"Taking action to safeguard your life and property against the possible onslaught of flood water is absolutely vital. We believe this Floodline campaign will directly help those in flood risk communities."