Special Operation team keeps ambulance fleet moving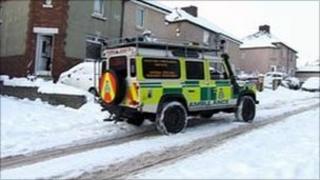 Scotland may have ground to a halt in the snow but that doesn't stop people having heart attacks and falling sick.
I spent the morning with the Scottish Ambulance Service's Special Operations Response Team, who have been deployed to help keep the ambulance fleet moving.
At 0900 GMT I joined paramedic Gordon McNeil and ambulance technician Peter Anderson for the start of their shift in a specially-equipped Land Rover.
They're specially trained to deal with unusual events, be it chemical spills, terrorist attacks or extreme weather.
Gordon said: "I've been with the ambulance service a long time and this is the worst snow I've seen.
"Our job is to make sure the service can continue to operate at times of extreme pressure."
We head for Lanarkshire.
It's usually a busy beat for regular vehicles but many of them are now having trouble reaching people in residential side streets.
Our first call is to a man who's attempted suicide.
Driving at high speed with blue lights is stressful in normal conditions. Today it takes nerves of steel.
Pete said: "The conditions on the road are really treacherous, so you've got to really watch your speed."
Drivers in front of us panic when they see the blue lights and create dangerous situations by slamming on their brakes.
He added: "Pull over safely if you can, and if you can't pull over because of the snow then continue your journey and let the driver of the emergency vehicle make the decision and navigate around you."
We arrive to find an ambulance has made it through the snow ahead of us.
Pete and Gordon check it can get back on to the main road to take the casualty to hospital.
Minutes later and we're on our way again - this time to an old lady who has collapsed in a supermarket.
Again, a regular ambulance is on scene, but as we see them off we're called to Bellshill where a man has collapsed.
We arrive to find a paramedic whose fast response estate car has gone as far as it can. He's about to head up the hill on foot.
Gordon and Pete give him a lift in the Land Rover.
The man has regained consciousness but needs to go to hospital
There's no way an ambulance will make it up the steep snow-bound hill so the crews have to carry the casualty in a wheelchair all the way down.
Offering comfort
The doors of the ambulance have only just closed when a woman comes running down the hill in tears.
She said: "Excuse me, can you help me? Could you take a look at my wee boy? He's cut his head but I can't get my car out to take him to hospital."
Gordon puts a comforting arm around her and walks with her back up the hill while Pete follows in the four-wheel-drive.
The toddler has a nasty cut above his eye and will need a stitch but is otherwise OK.
Pete and Gordon take them down to the main road in the Land Rover and keep them warm while they wait for another ambulance to arrive.
In emergencies they can take casualties in the back of the Land Rover but in these conditions it's more efficient to get casualties another ambulance so that the Special Operations vehicle is freed up to get to the next emergency.
There's just time for a flask of hot coffee and a slice of Christmas cake before the phone goes again.
I leave them as they dash up the motorway to what's thought to be a major gas leak.
The snow may stop the daily grind, but the drama of daily life goes on.