M8 motorway in Scotland reopens after big freeze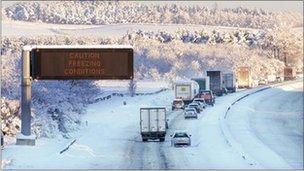 A 20-mile stretch of the M8 motorway has reopened after being closed for 48 hours due to snow and ice.
Scotland's busiest road had been closed westbound between the outskirts of Edinburgh and Shotts in North Lanarkshire since Monday afternoon.
It was the last of Scotland's motorways to be opened after the transport network was brought to a standstill by severe weather two days ago.
Police were still advising drivers against travelling.
Temperatures again plummeted overnight, with Edinburgh recording -14C and Glasgow dropping to -13C.
Thick ice is still covering many roads and conditions are hazardous on most routes.
Glasgow City Council has announced that all its schools will be closed for a third consecutive day on Thursday.
Police are warning motorists not to return to cars they abandoned at the side of motorways.
The M8 westbound opened just before 1300 GMT after being closed for two days.
The M876 southbound reopened after being closed for two hours during the morning to prevent cars getting stranded.
Almost 300 petrol stations in Scotland reported fuel shortages, after some hauliers said they were unable to reach the Grangemouth refinery.
The National Farmers Union Scotland have reports of diesel shortages in the Borders, Aberdeenshire and Moray
School closures continue across Scotland on Wednesday.
Major snowfalls saw hundreds of people sleep in their cars or abandon them on the highway on Monday night as motorways and roads clogged up, particularly on the M8, M80, M9, M876 and A80.
The transport minister had to apologise for the gridlock after some travellers were stuck in their vehicles for more than 15 hours.
On Wednesday, police warned motorists not to return to cars they had abandoned at the side of motorways.
They said some vehicles may have been moved, as motorways were cleared, but drivers will not be charged when they recover these cars.
But Mr Stevenson said Scotland had faced a "perfect storm" of conditions and he shrugged off opposition calls for his resignation as minister.
Mr Stevenson told MSPs the government was faced with "exceptional circumstances".
The minister said he was open to a "wider review" over what went wrong.
The M8, which links Glasgow and Edinburgh, was closed westbound from 1400 GMT on Monday to 1300 GMT on Wednesday.
Thousands of cars and lorries were stranded on Monday night.
A few lorry drivers were stranded at Harthill services in North Lanarkshire for two days.
Insp John Beresford from Lothian and Borders Police said the ice was like concrete in places and was the worst he had ever seen.
The M876 near Falkirk was closed for two hours from 0930 GMT on Wednesday due to tailbacks on the A80 and M80, which prevented vehicles leaving the motorway.
The tailbacks were caused by HGVs struggling to climb the hill on the A80 at Castlecary.
Central Scotland Police said the M876 and M80 was affected by deeply-rutted snow and ice.
More than 1,000 vehicles were abandoned on the M876 on Monday night as snow, ice and gridlocked roads left them stuck for hours.
On the railways, frustrated commuters were left standing on the platform at Glasgow's Queen Street station after services on Scotland's main morning rush hour route were cancelled.
The Glasgow-Edinburgh shuttle, which has already been running at a reduced half hourly service for much of the weather crisis, was cancelled at short notice after trains' braking systems began to fail in the severe cold weather.
There were scores of other cancellations and disruptions throughout the country.
Residents of a village in South Lanarkshire said they had been without water supplies since 0800 GMT in the morning.
One woman in Kirkfieldbank told BBC Scotland they had been boiling snow because bottled water had run out.
Mother of two Soraya Fenton said: "We've got absolutely no water supply, we're relying on taking snow from the garden because we have no toilet facilities either so it's really just been horrendous but also frustrating."
She added: "The majority of us have just had to rely on what we had in the house, we had no bottled water in the house because we just take it from the tap so we've just being going out and using snow from the garden, boiling that, not using it for drinking water I wouldn't let the children do that, but certainly for toilets and for washing your hands and for doing the odd dish."
A Scottish Water spokesman apologised for the loss of supply, which had been the result of a burst main.
"Our engineers have been working in horrendous conditions, with some repairs being completed in temperatures as low as -20C," he added. "The burst water main affecting customers in Kirkfieldbank has been fixed and the network is recharging."
Meanwhile, tens of thousands of pupils are having yet another day off school.
All schools in Glasgow, Inverclyde, East Dunbartonshire, West Dunbartonshire, North Lanarkshire, South Lanarkshire, East Renfrewshire and Renfrewshire are shut on Wednesday.
However, the situation has eased further east with schools in places including Dundee, Edinburgh and Moray opening for the second day in a row.
The weather is still causing disruption for pupils in Falkirk, where all primary schools and nurseries remain closed.
West Lothian schools are also badly affected.
The bad weather has also impacted on postal deliveries and the Royal Mail apologised to customers in Scotland for delays.
It said there was also some disruption to mail going to and from England as the weather has affected air and road networks into Scotland.
Irish singer Daniel O' Donnell's gig at Glasgow's Royal Concert Hall on Wednesday has been cancelled.
However, a concert by Scissor Sisters at the SECC was scheduled to go ahead.
Related Internet Links
The BBC is not responsible for the content of external sites.