Crash victim's parents issue drink-drive warning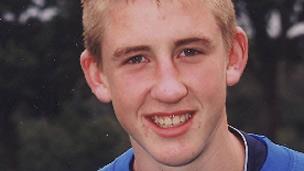 The grieving parents of a 17-year-old who died in a car crash have urged motorists not to take a chance with drinking and driving.
Graham and Diane Matheson, from Inverness, lost their son Callum in March in a crash in which the driver had been drinking.
The plea came as Scotland's eight police forces launched this year's drink-drive campaign.
More than 8,500 motorists were caught under the influence in 2009-10.
They included 357 repeat offenders.
Callum Matheson was killed on Island Bank Road in Inverness after the car he was travelling in hit a wall.
It was being driven by his childhood friend, 17-year-old Ahlee Jackson, who was also killed.
In a statement, Graham and Diane Matheson said: "People might be under the false impression that it's only five minutes up the road and that they'll be fine, but Callum and his friend were only in the car for 40 seconds and they are both dead now.
"People should have a designated driver or take a taxi.
"We all remember being told about stranger danger in school but we would like to highlight 'mate danger,' because they are no mate if they have a drink or take drugs and get behind the wheel with you in the vehicle."
Chief Constable Kevin Smith, chair of road policing for the Association of Chief Police Officers in Scotland (Acpos), said it was "staggering" how many Scots persisted in driving while under the influence of drink or drugs.
He added: "From today, over the festive campaign, we will be increasing our road patrols targeting those who continue to drive under the influence of drink or drugs.
"During this year's Acpos summer drink/drug driving campaign, one in four drivers caught were as a result of calls from the public.
"With this public support and increased police patrols across Scotland, my message to anyone considering taking to the roads under the influence of drink or drugs is: 'You will be caught'."
Police have hailed the success of a forfeiture scheme, introduced a year ago to deal with repeat offenders, which has seen 72 vehicles taken off their owners.
The initiative could soon be extended to include disqualified drivers and those who provide a high alcohol or drug reading.
Justice Secretary Kenny MacAskill said: "The Scottish public is fed up of drink drivers and their excuses, and too many lives are being lost on our roads each year through the careless actions of a few.
"Drink drivers will be met with the full force of the law - they will lose their licence, get a hefty fine and they could face a lengthy prison sentence or have their car seized and crushed."
All eight of Scotland's forces are taking part in the national campaign, which runs from 6 December to 3 January and will see increased road patrols.
Related Internet Links
The BBC is not responsible for the content of external sites.