Duchess of Hamilton in £1.5m dementia appeal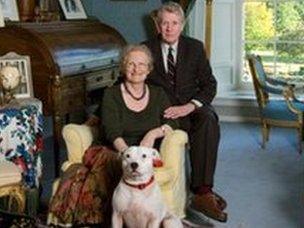 The Duchess of Hamilton is spearheading a £1.5m appeal by Alzheimer Scotland to place a specialist dementia nurse in every health board.
Kay Hamilton has called for improved dementia training to assist general hospital nurses and doctors following the death of her husband, the 15th Duke of Hamilton, earlier this year.
The Duke was diagnosed with vascular dementia in 2006, at the age of 66.
Lady Hamilton wants to increase NHS staff understanding of dementia.
Alzheimer Scotland is looking to improve standards of care and reduce the "inappropriate" prescribing of antipsychotic drugs to modify behaviour.
It also seeks to reduce the number of people with dementia who are compelled to go from hospital into residential care, instead of being able to go back to their pre-hospital homes.
About 71,000 people in Scotland have dementia and the number is expected to double over the next 25 years. It is estimated that the illness costs health services £1.7bn a year.
Currently, only four of Scotland's 14 health boards have a dedicated dementia training nurse in post.
Three are being funded at a cost of £50,000 a year each by Alzheimer Scotland - one in the Borders, one in Kilmarnock, and a third in Edinburgh. The fourth is now being paid for by NHS Greater Glasgow and Clyde in Paisley, after three years of funding support by the charity.
Alzheimer Scotland has now raised enough for a fifth nurse, who could be in place at an unspecified location as early as next April. The charity still needs to find the resources to fund dementia training nurses over three years for the other nine health boards in Scotland.
"The staff can do the job of fixing a broken hip, or repairing a heart valve, but if they don't know how to handle a person with dementia, it is hopeless.
"My husband was admitted to hospital when he broke his hip - they were very good in accident and emergency. They addressed him, but when he got to the ward it was a different cup of tea altogether."
She added: "No-one in the NHS goes off to work hoping to do a bad job - they are not. It's just that they are not being trained in it."
Henry Simmons, chief executive of Alzheimer Scotland, said health authorities had not realised the scale of this problem until recently.
He said: "In an average 900-bed hospital, approximately 150 patients will have some form of dementia.
"The system within a general hospital environment doesn't really know how to deal with people with symptoms of dementia. Even though they want to help they might not have the skills base. We want to help people to shift their focus."
Mr Simmons added: "These dementia nurses are a bit like Macmillan nurses, and they become a bridge between what people are doing in communities and what is happening in a hospital environment."
The Scottish government said it was working closely with Alzheimer Scotland and agreed on the importance of supporting hospital staff in being able to identify dementia.
A spokeswoman said: "One of the two key areas for improvement in our dementia strategy - published earlier this year - is improving the care and treatment of people with dementia in general hospital settings.
"Health boards across Scotland are already working to improve how patients with dementia are identified in hospital so their care can be planned and their needs met."
Related Internet Links
The BBC is not responsible for the content of external sites.