Opposition parties want probe into Scots travel chaos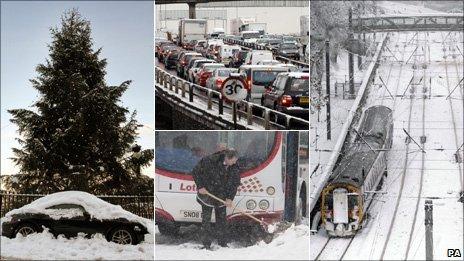 Opposition parties are demanding an inquiry after heavy snow caused unprecedented scenes of travel chaos across central Scotland on Monday.
Transport Minister Stewart Stevenson has already apologised after hundreds of motorists were stranded in cars overnight amid plunging temperatures.
There will be a ministerial statement to parliament on Wednesday.
Opposition MSPs said ministers failed to act on severe weather reports.
Speaking on BBC Radio Scotland's Good Morning Scotland programme, Mr Stevenson said that the weather advice the authorities had been working on "did not meet the requirements".
He said the authorities would now "have to look at the advice we had", adding that the weather forecast they were given "appears to have been different" from that of some other forecasters.
The minister said: "I want to know why that's the case because we can't have that happening again.
"That's a clear part of what we've got to look at to make sure that we improve."
Mr Stevenson said motorists should know that "we are sorry for the very, very considerable difficulties we have created for people" and thanked them for the "very substantial tolerance and patience" shown.
He added: "We will review our performance very carefully, once we've got the immediate problems dealt with. That I am sure is what people wish us to do."
The government's response to Monday's severe weather, however, has been roundly criticised by opposition parties.
Scottish Conservative transport spokesman Jackson Carlaw gave a stark assessment of the problems and called for a full inquiry into how they happened.
"There is no point in pretending other than that there has been a total collapse of our transport infrastructure," he said.
"At the very least, most Scots will have expected that lessons should have been learned from last winter's snowfalls, yet it is clear that once again our transport network is paralysed.
"Today, our first priority is to assist anyone still in difficulty. Thereafter, Stewart Stevenson must lead the Scottish Parliament in a full investigation into Scotland's preparedness for future severe winter weather and the co-ordination of our national response."
Scottish Labour leader Iain Gray said a "clear warning" should have been issued to the public after reports of severe snow on Sunday night and Monday morning.
He also accused the Scottish government of a lack of preparedness.
"Stewart Stevenson was claiming there was 'a first class response' at the very moment thousands of people were stuck on roads across Scotland in freezing conditions," he said.
"Why were people not warned off the motorways when they were getting stuck early on Monday morning?
"The Scottish government only called an emergency meeting late on Monday evening. It was only then the transport minister issued helpline numbers on television. This was more than 12 hours after many people had been stranded."
Scottish Liberal Democrat leader, Tavish Scott, also condemned what he said was a lack of planning and accused Mr Stevenson of blaming forecasters for his own failings.
He said: "I was briefed by the Met Office in my living room courtesy of my television. I knew that heavy snowfall was predicted at the weekend, as did many other mere mortals. Ministers certainly had time to plan for yesterday's chaotic scenes.
"It is unbelievable that Stewart Stevenson has blamed the government's poor performance on weather forecasts. This excuse is even more slippery than the roads.
"The transport minister has apologised for the government's lacklustre response that left people stranded for hours. He now needs to add to that with an apology to forecasters."
Meanwhile, Scottish business leaders appeared divided over the issue of an inquiry.
Edinburgh Chamber of Commerce said "truly national action" was needed to deal with the cold weather crisis now.
Graham Birse, the chamber's managing director, said: "With up to 30% of people unable to get to work today, the last thing we need is an inquiry, as some parties have been calling for.
"That suggests we have no solutions, when what we need are snow solutions, now. What we need is action. And we have plenty of capability to deal with the situation."
The Federation of Small Businesses (FSB) called for an inquiry to be held once the crisis was over.
Scottish policy convener Andy Willox said: "The immediate priority has to be safely reopening our main arterial roads - and then keeping them open.
"Business people and their staff can't get to work, orders can't get to customers and their stock is stranded - we can only speculate about true scale of the impact on an already fragile economy.
"But thereafter there must be an inquiry into how this failure happened, the extent of its effects and how to ensure it doesn't happen again."
Related Internet Links
The BBC is not responsible for the content of external sites.