Scots minister Stewart Stevenson takes snow chaos blame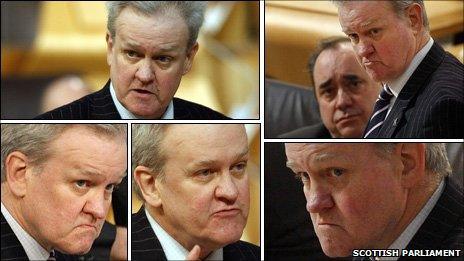 Scottish Transport Minister Stewart Stevenson has said responsibility for this week's weather-related travel chaos lies with him.
Snow and freezing conditions caused road and rail closures on Monday, resulting in thousands of people stranded in their cars overnight.
But in a statement to parliament, Mr Stevenson put the problems down to a "perfect storm" of factors.
He also ignored opposition calls for his resignation as minister.
Mr Stevenson told MSPs the government and other services were faced with "exceptional circumstances".
But he said: "The fact of the matter is, that when the transport system grinds to a halt and people are forced to spend the night in their cars, then something has clearly gone wrong.
"I regret this and apologise for the failure to communicate the situation effectively to the many people affected on Monday when the extent of the problem became apparent.
"I am sorry that anyone should have to experience the gridlock and inconvenience of recent days, and, in terms of the aspects of the problems that can be resolved by government, I accept that responsibility rests with me."
The minister paid tribute to the thousands of emergency workers and volunteers who had helped out during the worst of the wintry conditions, which saw cancellation of train and air services and the closure of schools.
Mr Stevenson said he was open to a "wider review" over what went wrong.
He also explained: "The combination of events - the return of many adults and children to work or school after a period of school closures and disruption of previous snow, combined with more and heavier snow falling over time than expected, contributed to a very sudden deterioration in road quality and public transport services in central Scotland on Monday."
Mr Stevenson told MSPs the government received Met Office information at 1601 GMT on Sunday, warning of up to 10cm of snow in parts of central Scotland, while other areas, including Glasgow and Edinburgh, were forecast to see between 1-3cm.
A further Met Office update at 0801 GMT on Monday, the minister said, warned of fresh snow of 2-10cm, and, by 1037 GMT, was saying the weather had become "unexpectedly severe" and the band of snow had shifted further east than previously forecast.
Mr Stevenson said it had now been determined that some areas of Scotland had "clearly" seen more snow than thought - up to two-times the previously forecasted level in some areas.
Labour transport spokesman Charlie Gordon said the problems had caused "the worst gridlock in living memory".
"The transport minister was on the BBC claiming a first-class response and refusing to apologise - in fact it was a first-class cock-up and he was responsible," said Mr Gordon.
Referring to the forecasts used by the Scottish government, the Tories' David McLetchie, said: "I was watching television on Sunday night and the BBC told me, and displayed a graphic, showing a blizzard of snow blocking out the whole of central Scotland.
"If I could see that and millions of other Scots could see that - then why was it that the Scottish government couldn't see that?"
Alison McInnes, the Liberal Democrat transport spokeswoman, said Scots had been let down by a "bumbling transport minister".
She added: "Until yesterday, no-one was suggesting Stewart Stevenson should personally clear the snow, but now that would be the best thing he could do.
"He should leave the chamber, pick up a shovel and start digging."
Related Internet Links
The BBC is not responsible for the content of external sites.