Army to help clear snow from Edinburgh roads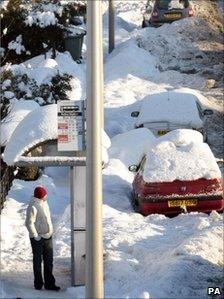 The Army is being called in to clear ice and snow from Edinburgh's streets, BBC Scotland has learned.
It is understood the Scottish Secretary was involved in the decision which has been given formal clearance from the Ministry of Defence.
Talks have been taking place between the city's local authority and Army officials at the Redford Barracks base.
The recent snowfall is the heaviest the city has seen in about 50 years, with up to 30cm (12in) in some areas.
The M8 westbound between Junction 1 and Junction 5, which has been closed for almost two days, reopened at 1230 GMT.
There have also been long delays southbound on the Forth Road Bridge after a bus and an HGV lorry broke down at the Barnton Roundabout.
Traffic was backed-up all morning with motorists reporting three-hour delays.
On the M9 spur an ambulance crew member was taken to Edinburgh Royal Infirmary with possible neck injuries after the vehicle crashed near Newbridge.
It is understood the ambulance ended up on its roof after hitting black ice while taking a patient from Stirling Royal Infirmary to the ERI.
The patient has been airlifted to hospital.
Meanwhile, Historic Scotland's ranger service and Lothian and Borders Police are urging "irresponsible" skiers and snowboarders to stop putting people at risk in Holyrood Park.
Over the past week there have been several incidents and injuries relating to the large number of people using ski's, snowboards and makeshift sledges including inflatable dinghies, metal signs, bin bags and canoes, descending on the beauty spot following the unprecedented snowfall.
There have also been reports of skiers and snowboarders launching off the Radical Road and other high areas of the park into the path of people and on coming traffic.
The most serious incident saw emergency services hindered during a rescue operation at the weekend when skiers and snowboarders continued to come down the hill at speed as they tried to remove a seriously injured sledger from the hill.
At Edinburgh Airport a British Airways flight to London was delayed for three hours until temperatures rose above -15C when de-icer could become effective.
A Lothian Buses spokesman said: "Due to icy road conditions and badly-parked cars some services are currently not operating their full route."
"Extremely low temperatures" are hampering train services in the east including Linlithgow, with Edinburgh to Glasgow trains attempting to run a half hourly service.
The Edinburgh-Fife trains are running an hourly service.
Councillor Robert Aldridge the council would continue to clear the main thoroughfares but soldiers could help clear residential streets.
He said: "If the Army is available to help it won't come cheap but we believe it's a price worth paying."
Speaking on BBC Radio's Today programme, First Minister Alex Salmond said extraordinary circumstances required the government to use every facility available to them.
He added: "We've called on the Army twice this week - once to help with the ambulance service on Monday because of the extreme conditions.
"There's also been a request through Edinburgh Council today to mobilise the Army to clear some of the side streets."
Mr Salmond said Edinburgh was facing "extreme circumstances" with temperatures as low as -15C and -20C in the central belt.
"We haven't had weather circumstances of this severity for many decades in Scotland," he added.
"That's what we're coping with and we're getting on with the job - civilians and military."
Edinburgh Council said it had already brought in more contractors than any other Scottish local authority.
It said fresh heavy snowfall on Monday set back all the previous week's efforts, which had involved hundreds of staff and constant gritting, ploughing and other snow clearing work.
Mark Turley, director of services for communities, said details had yet to be firmed up.
He added: "I would hope we can move forward with this innovative plan in the next day or so," he said.
"In submitting our request for assistance I have stressed the extreme circumstances being faced by communities in the south and west of the city, and especially the urgency of ensuring that vulnerable people have access to health and care services."
There are two regiments currently based in Edinburgh. The 3 Rifles are at Redford Barracks and the 1 Scots are at Dreghorn Barracks. There are also many reservists based in the city.
The severe weather has already seen the Army carrying out Military Aid to the Civil Authorities (MACA) - the operational term for deploying soldiers to support civilian work. It has provided drivers and four-wheeled vehicles to the ambulance service.
Approaches for Army assistance need to be channelled through the Scottish government.
The Army said discussions are ongoing.
Related Internet Links
The BBC is not responsible for the content of external sites.