Fergus Muirhead answers your consumer questions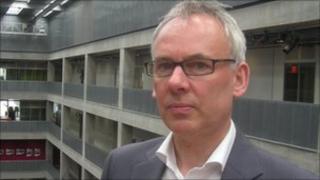 I'm Fergus Muirhead and I'm here to answer any questions you may have about any money or consumer issues.
I'll be dealing with a selection of your queries every other Wednesday on Scotland Live, on Reporting Scotland and here on the BBC Scotland news website.
Please drop me a line here at fergus@bbc.co.uk with your questions.
You can also read more on money and consumer issues on my own blog.
Q. My husband received a letter from the Inland Revenue with a bill of over £2,000 underpaid tax. He is 61 and still working. He is in receipt of a pension from an employer but has never paid tax since April 2008. Having checked back on old P60's wage slips etc, from both employer and pension provider, it looks as though both have allocated a personal allowance resulting in no tax being paid on his pension. If this is the case and it is the fault of the Inland Revenue, should he still be liable to pay this? Moira, his worried wife.
A. I am afraid that the answer to your question may be yes, he will still be liable for underpaid tax. I think that the problem might be that the Inland Revenue would argue that the fact that your husband may have underpaid tax is not its fault. I think that they would argue that your husband and his employers also have a duty to ensure that they neither underpay nor overpay tax. HMRC tell me that the situations where the incorrect amount of tax may have been paid would include the following:
Your employer used the wrong tax code
You started a new job and had an emergency tax code for a while
You only worked for part of the year
You had more than one job at the same time
You did not tell HMRC right away about changes to benefits you got through your work
Your circumstances changed - perhaps you were made redundant or became self-employed and therefore your income reduced
Other incomes - like investments or rental income - reduced but you failed to tell HMRC
and I think that anyone who has been affected by one or more of these changes would be wise to ensure that they have in fact paid the correct tax. The best way to do this, and the advice HMRC gave me, is that "anyone who feels that HMRC hold inaccurate details regarding their income, need to tell HMRC straight away to ensure they don't pay too much or too little tax".
Q. We booked a bus tour to London with Caledonian Bus Company but we could not go as we were snowed in. There were no buses and taxis could not reach our house as it is up a hill and on a small cul-de-sac. They refused to refund any money and our insurance refused to pay as we did not miss the bus. If we had missed the bus, they would have paid for accommodation for a night and the transport to get to London. I think Caledonian should refund at least part of the cost as they are not invoiced for the hotel in London until after they use the rooms. What are my rights? Patricia Massa
A. From the way you have worded your question, I'm not sure how you booked your trip and if you booked the bus journey and the hotel separately. If that is the case then there are two parts to my answer. The hotel would no doubt have had some sort of cancellation policy depending on the type of room you booked. Some arrangements allow unlimited cancellations, some up to 2pm the day before the booking, while some will not refund if you make any changes to the booking at all. As far as the cost of the bus is concerned, it would depend on the terms and conditions of the agreement you had with Caledonian in the first instance. If they are refusing to pay because, as far as they are concerned, the bus left on time and it was you that was late - not the bus - then a claim against your insurance company would be the only other option. Whether they are prepared to pay out or not would depend on the contract you have with them. As far as 'cancellation' is concerned and, as thousands of travellers found out to their cost earlier this year, when volcanic ash delayed flights - quite often this type of 'problem' is not covered. Sorry I can't be the bearer of better news! Of course, it may be that what you say is correct regarding the hotel booking and Caledonian didn't actually pay since the room wasn't used and they weren't invoiced. While I don't think it's likely to have happened that way it would be worth a letter to the bus company explaining your situation and asking for at least the cost of your accommodation to be refunded.
Q. My daughter bought a flat in Hyndland in April. We now have a problem with the shower mixer which will not turn off. Water is constantly coming out of the shower head. We contacted Bathstore, Great Western Road, and found it was installed in 2009 by the previous owner. There is a five-year warranty on the shower but Bathstore and their supplier will not replace the faulty goods. They have told us the warranty is not valid since we were not the purchasers of the shower fitting. We think this is not a suitable outcome. They suggested that we get the previous owner to call them to try to rectify the situation but we don't see why we should have to go down this route to get a solution to this problem for something that is obviously under guarantee. Gordon and Mary Smith, Glasgow.
A. Technically Bathstore are correct. The contract that existed at the point of purchase was with the previous owner of your daughter's property and there is legally no reason for Bathstore to deal with a request from you to exercise any rights under the Warranty. This is an important point for others entering the property market - Warranties exist between the retailer or supplier and the original owner, not the new owner unless they are transferred and while I understand that it is possible in some circumstances for a warranty to be transferred it is not the 'norm'. I'm glad to say that in this case, however, after I got involved Bathstore, and the manufacturer Crosswater, agreed, as a gesture of goodwill, to replace the faulty shower valve and to contribute towards the fitting of a new one, so a satisfactory outcome for all on this occasion.