Abandoned cars 'stopping snow ploughs' in Tayside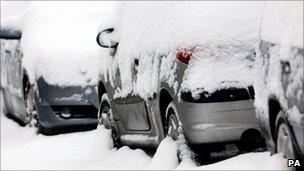 Abandoned cars are hampering efforts to clear roads and drivers should collect them as soon as it is safe to do so, Tayside Police have said.
Many drivers have been forced to leave their cars over the past week when they became stuck in snow or ice.
But the vehicles are now preventing snow ploughs from clearing roads and rubbish from being collected.
Tayside Police said it did not have time to contact drivers individually to ask them to remove their cars.
A spokeswoman for the force said: "We are asking for people's support so we can ensure the roads are safe and as little disruption as possible is caused to motorists.
''Abandoned cars that are sticking out too far in the street are making snow ploughing difficult in some areas and in some cases making ploughing impossible."
Central Scotland Police said that some companies and local authorities in the force area were struggling to gain access to their facilities because of abandoned vehicles.
Supt Robbie McGregor said further problems were being caused by "inconsiderate parking" by people who were having difficulty parking in their normal place.
He added: "There is a clear problem this morning at the West Mains Industrial Estate in Grangemouth as parked vehicles are blocking the access of services to and from companies within the estate.
"We would urge anyone who has found it essential to drive to ensure that they park in a manner that allows other essential traffic unrestricted movement and help us keep services and traffic moving."
Strathclyde Police advised drivers on Tuesday evening not to collect abandoned cars as conditions were too dangerous.
About 1,000 vehicles were abandoned in the force area on Tuesday. The force said it hoped the cars would be moved by drivers on Wednesday.
Lothian and Borders Police said they were not aware of the issue causing problems in their force area, but added they had asked drivers to park responsibly.
Related Internet Links
The BBC is not responsible for the content of external sites.