Past Scottish voices archive to go online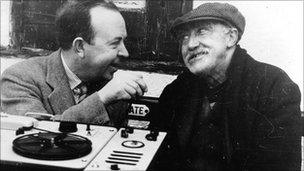 More than 15,000 recordings from Scotland's past are going online as part of a new digital archive.
The recordings, many of which date back almost 80 years, are drawn from three different collections and include songs, poems and stories.
The £3m project includes interviews with mill workers and crofters, travellers and farm workers in Gaelic, Doric and Scots.
Many date back to the 1930s and were recorded on wax cylinders or wire.
Over the past five years, staff from the project Tobar an Dualchais/Kist o Riches have digitised and catalogued material from Shetland to the Borders and Aberdeen to the Western Isles.
They include stories recorded by John Lorne Campbell on wax cylinders in 1937, folklore collected from all over Scotland by Calum Maclean in the 1950s and Scots songs recorded by Hamish Henderson from travelling people in the 1960s.
The project combines the resources of three collections - the BBC, the National Trust for Scotland's Canna Collection and Edinburgh University's School of Scottish Studies, which celebrates its 60th anniversary next year.
Project chairman and musician Donnie Munro said the new website would open up Scotland's past as never before.
He said: "This is the most ambitious cultural digital heritage project anywhere in Europe, if not the world.
"A visit to the website will be like talking to those who walked, talked, lived and worked decades ago.
"You will hear the real voices of mill workers, fishermen, crofters, travellers and farm workers talking in their own language, be that Gaelic, Doric, Scots or the rich dialect of the Northern Isles."
The website will be formally launched by Culture Minister Fiona Hyslop at Edinburgh University on Thursday.
Ms Hyslop said: "Our linguistic heritage is an important part of who we are as Scots.
"This project makes available an enormous amount of rich material in Gaelic and Scots which will help current and future generations learn where they come from."
She added: "That is why the Scottish government is pleased to have been able to provide funding of £100,000 to assist in the transition and development phase of a new project which will develop this fantastic learning tool for all those interested in our heritage."
Related Internet Links
The BBC is not responsible for the content of external sites.