Morrison's Academy pupils' Christmas holiday cut short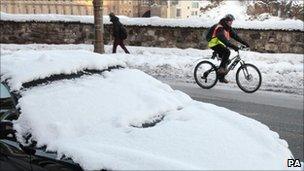 Pupils at an independent school in Perthshire will lose two days' Christmas holiday to compensate for time off during the wintry weather.
The rector of the £10,000-a-year Morrison's Academy in Crieff has told his 520 pupils to return to classes on 10 January rather than 12 January.
A two-day February break may also be cancelled to "reclaim" further days.
The school was closed or almost empty last week and again on Monday because of snow and transport difficulties.
Announcing the changes in a letter to parents, rector Simon Pengelley said: "In all of this I am acutely conscious that this winter has hardly begun and that we may be facing further heavy falls of snow and consequent disruption to teaching.
"Please be assured that we will do all reasonably can to mitigate any impact on the education of your children."
Mr Pengelley added that the cancelled Christmas holiday days - Monday 10 January and Tuesday 11 January - had been set aside for staff in-service training, but this would now take place in "twilight sessions" that week.
Hundreds of schools across Scotland have been closed over the past two weeks, and some councils are still running limited school transport services.
Related Internet Links
The BBC is not responsible for the content of external sites.