Scottish fuel supplies 'returning to normal'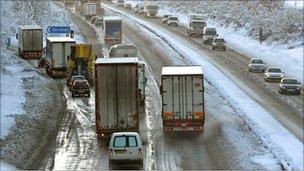 Targeted fuel deliveries are taking place and more schools are reopening as efforts continue to get life back to normal across frozen Scotland.
A week of intense cold and heavy snowfalls has seen roads blocked, deliveries disrupted and schools closed for days on end in some areas.
A slight rise in temperatures has allowed the transport network to clear but drivers are urged to take care.
The Scottish government said fuel supplies were returning to normal.
The Grangemouth refinery has stepped up production to cope with an expected increase in demand over the weekend.
The government said that filling stations which experienced shortages earlier in the week, including Harthill on the M8, would be among the first to receive deliveries.
Fuel tankers were also bound for stations along the M73 and M74 and fuel trains were taking deliveries to Prestwick, Lanarkshire and north west Scotland.
On Thursday a third of independent Scottish garage forecourts had been closed after they were unable to receive fuel supplies.
Bad roads and backlogs in deliveries have seen shortages on supermarket shelves reported in some areas.
Finance Secretary John Swinney said: "As the severe weather lessens it grip over the weekend we anticipate an increase in demand for fuel.
"Grangemouth refinery is preparing for this by ramping up operations to ensure that there is enough fuel available to allow people to get out and about over the weekend."
For some pupils it will be their first day back since last week.
Rising temperatures have also seen warnings from the police and fire services over the dangers of flooding from burst pipes, falling icicles from overhangs on buildings and dangerous ice cover on frozen lochs and ponds.
Although road conditions are improving in some parts, routes are expected to ice over from falling temperatures overnight.
In Edinburgh the Army has been on the streets to help clear snow and ice and North Lanarkshire Council has also asked for military assistance to help it cope.
Related Internet Links
The BBC is not responsible for the content of external sites.