Scotland's big thaw causes fresh disruption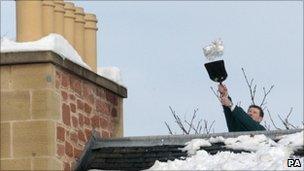 Scotland is returning to normal as the severe weather eases but there are fresh warnings about the dangers caused by thawing snow and ice.
Some side roads and pavements are said to be "treacherous" as the top layers of thick ice begin to thaw.
There is also a risk pedestrians could be hit by falling icicles and snow.
Glasgow City Council's building firm has responded to more than 700 reports of burst pipes, 1,700 gas call-outs and has provided 1,000 temporary heaters.
Strathclyde Fire and Rescue said most of its flood-related calls, including one at its own headquarters, involved business premises in Glasgow city centre and North Lanarkshire.
A spokesman also urged pedestrians to take extra care on icy pavements.
Renfrewshire Council issued a warning to residents over untreated pavements, many of which are coated in ice after a thaw and sharp frost.
Northern Constabulary said there was a high risk of icy roads.
Most councils had all schools open or only limited closures.
Scotland's roads are largely back to normal after the chaos which began on Monday afternoon.
But on some routes, abandoned vehicles were posing a hazard.
Police were taking steps to remove vehicles from the M74 in Lanarkshire.
In Edinburgh police were towing away cars which are blocking main bus routes.
And the thaw has also led to flooding badly affecting the A9 between Thurso and Georgemas.
Northern Constabulary said Caithness, Sutherland and the River Oykel areas were at risk of flooding.
Meanwhile Steve Montgomery, managing director of ScotRail, said the situation on the railways was improving.
He admitted there had been problems keeping the website up to date with a frequently changing situation, as trains and points were constantly failing.
Production at the Grangemouth refinery has been increased to cope with an expected upsurge in demand for fuel supplies for the weekend.
The Scottish government said filling stations that have experienced shortages - including Harthill on the M8 - will be among the first to get deliveries.
Forecasters said it would start to get cold again on Saturday night and there is a possibility of more snow towards the end of next week.
BBC One Scotland will be showing another special programme on Frozen Scotland at 1730 GMT on Sunday.
Jackie Bird is looking to speak to your snow heroes. Who were the people you know who went the extra mile, or acted above and beyond the call of duty, to help family, friends or complete strangers to survive the big freeze?
Related Internet Links
The BBC is not responsible for the content of external sites.