Wildlife in Scotland adapts to wintry weather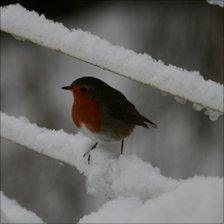 Much of Scotland's wildlife has adjusted to the early icy blast of winter, according to experts.
Early indications suggest many species have adapted to the conditions, although observers warn that a hard winter will have an adverse impact.
Some invertebrates such as the Arctic whorl snail and money spider have actually benefited from heavy snow.
And Scottish Natural Heritage (SNH) said many species were moving around to boost their chances of survival.
SNH spokesman Calum Macfarlane said there was evidence some coastal waders were losing body condition.
Some wildfowlers had also reported small numbers of geese in poor condition, although most seemed to be coping.
He added: "We know from last winter that a wide range of species suffered, including common birds like wrens, dunnock, treecreeper, robin and greenfinch. Barn owls also suffered.
"If cold weather continues, then we will see a similar picture.
"For many species we don't pick up effects until after the following breeding season. It may be some time before we detect changes for some species."
Dawn counts taken last weekend suggest the inner Solway Firth has record-breaking numbers of pink footed geese, with more than 40,000 counted.
Species such as snipe and woodcock have headed west, where there is less snow and ground conditions are not as frozen.
Mr Macfarlane added: "As well as moving around, species often move into gardens and so we are seeing more thrushes, for example redwings and fieldfares, in gardens.
"We also get reports of unusual species turning up in gardens, such as water rails and woodcock, where they'd normally never venture."
On a positive note, a butterfly that is in serious decline across the UK has been found in abundance in newly-discovered colonies in the Highlands.
Experts said their chances of thriving next year have been given a boost by the recent cold snap.
The pearl-bordered fritillary has been found at several Forestry Commission Scotland sites near Contin and Garve, just to the west of Dingwall.
Graeme Findlay from the commission said: "Hopefully they'll go on to thrive next year too, because a cold winter is actually helpful in reducing the incidence of disease and viral attacks on the caterpillars, which hibernate over winter in vegetation on the ground."
Craig Macadam from the conservation group Buglife said hopefully most invertebrates would have settled in for the winter before the snow arrived.
He said: "Snow is probably better for invertebrates than hard frost as a thick blanket of snow insulates the ground.
"A bigger problem is road salt and de-icer which can have a negative impact on aquatic invertebrates, where it runs off into watercourses.
"Interestingly, this snow should actually benefit some of the specialist invertebrates found in Scotland's mountains.
"Species such as the Arctic whorl snail and a tiny money spider, mecynargus paetulus, live in and around snow beds. Another species that might benefit is the snow flea."
But some animals have struggled in the cold snap.
The Scottish SPCA has received almost 700 more calls to their animal helpline over the last two weeks compared with the same period last year.
More than 100 of these calls were directly related to the snow and bad weather conditions, and raised concerns about wildlife including birds, hedgehogs and deer.
The charity's wildlife rescue centre in Fife received more than 50 underweight hedgehogs after they were unable to find food in the deep snow.
Swans were also cared for after crash-landing in fields as ponds froze over.
Tom Gatherer from the Scottish SPCA said: "Freezing temperatures and deep snow can be very dangerous for animals, including domestic pets, equines, farm animals and wildlife.
"At this time of year natural food sources will be scarce so it is kind to feed wild birds."
The early winter weather has also proved challenging for some plant life.
David Knott from the Royal Botanic Garden in Edinburgh said: "It is too early to assess the damage, but with the snow we have had and the very low temperatures, we will probably see some damage to evergreen plants.
"However, nature is in a better position to cope than man."
Related Internet Links
The BBC is not responsible for the content of external sites.