Profile: Stewart Stevenson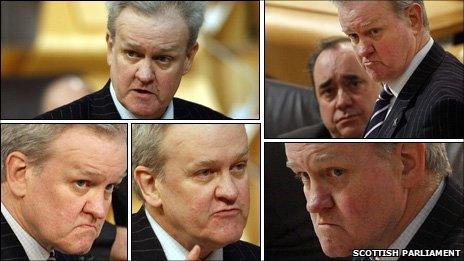 Scotland's Transport Minister Stewart Stevenson has resigned over his handling of the travel chaos caused by a prolonged spell of severe weather.
The SNP MSP was handed the transport, infrastructure and climate change brief following his party's election to government in 2007.
The Banff and Buchan MSP first entered Holyrood by winning a by-election in 2001, getting re-elected at the following two national polls.
In opposition, he cut his teeth as deputy health and social justice spokesman and as a member of Holyrood committees, including justice, where he served as deputy convener.
In government, Mr Stevenson helped steer legislation through the Scottish Parliament, setting tough targets to reduce carbon emissions by 42% by 2020.
The Climate Change Bill was described by campaigners as setting the highest benchmark in the industrial world, and drew praise from California governor Arnold Schwarzenegger.
More recently he faced criticism for the way legislation was being handled on the future of Scottish Water. A bill was showcased as a centrepiece for the year ahead, but it was withdrawn at the last moment after the government said it risked missing its potential.
Four years ago, he was caught up in wider criticism about Holyrood's housing allowance scheme when it emerged he claimed more than £22,000 - including about £15,000 in mortgage interest subsidies - in three years.
At the time, he said everything was done in full compliance with Parliamentary rules.
Before entering front-line politics, Mr Stevenson worked at the Bank of Scotland for 30 years, leaving as director of technology innovation.
The 64-year-old lives in Banffshire with his wife, Sandra, and lists his interests as photography, reading and writing.
He was educated at Bell Baxter High School, in Cupar, Fife, before going on to study mathematics at Aberdeen University.
He has also been a lecturer of business studies at Heriot-Watt University, a trainee computer programmer and once worked at a psychiatric hospital in the 1960s.
Related Internet Links
The BBC is not responsible for the content of external sites.