University tuition fees for Scotland or what?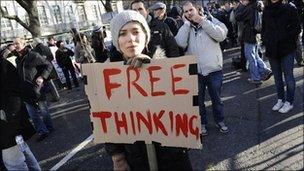 In Scotland confusion reigns over the issue of tuition fees, which will be much in the news this week with publication on Thursday of a Scottish government paper on university funding.
The paper is expected to include the controversial option of charges which are payable after a student graduates.
Currently Scots do not pay for taking degrees in Scotland either upfront or after they leave university. (Most do leave with substantial debts, however, as they have to repay loans for living costs such as rent and food.)
With a tight squeeze on public spending across the UK, and students in England facing fees of up to £9,000 a year, there are increasing calls for students in Scotland to make a contribution to the cost of their higher education, if and when they are in career jobs with reasonable salaries.
We might think "tuition fee" is a general term for a payment from students or graduates - but numerous parties view the term in a particular way.
NUS Scotland believes the word "fee" precludes the option of a sliding scale of payments according to an individual's ability to pay.
A fee can only mean a fixed price tag for degrees it says, a concept which might deter those from less well-off backgrounds applying to university.
The education secretary has said repeatedly that he has "ruled out tuition fees".
It would be a mistake to assume this means he has ruled out charges.
Last month when asked by the Scottish Parliament's education committee if he agreed with calls from university principals for graduates to contribute towards higher education costs, he said: "I'm not ruling it out, but I'm happy to say I disagree with them."
There's speculation the SNP and other parties are thinking of reviving and rebranding the old "endowment charge".
It replaced tuition fees and officially meant graduates paid not for their education but for the grants and loans of students coming after them.
The charge still transferred to graduates costs that used to fall on the Scottish government.
For that reason the endowment charge came to be widely viewed as a tuition fee in all but name.
When the SNP came into power it scrapped the charge.
The party may have an extra incentive to avoid calling any proposed payments "tuition fees".
In November 2007 Alex Salmond, the first minister, said in a public meeting at his alma mater, St Andrews University: "The rocks will melt with the sun before I agree to tuition fees."
Related Internet Links
The BBC is not responsible for the content of external sites.