Local TV 'not viable in Scotland for some time'
By Jamie McIvor
BBC Scotland local government correspondent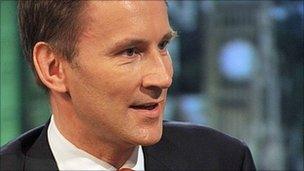 Local TV stations may not be viable in many parts of Scotland for some time, according to a report carried out for the UK Government.
It is keen to see local TV stations established across the UK in case Channel 3 stations stop providing their traditional regional services.
A report commissioned by the UK government suggests that local TV could be made viable, especially as the internet and traditional broadcasting converge.
But it also says that local TV stations might not be viable in rural and thinly-populated areas on Freeview, for both technical and financial reasons.
The debate over local TV was triggered by concern over the future of regional news on Channel 3 - STV in most of Scotland and ITV1 in the rest of the Great Britain.
It is argued the business model - where Channel 3 stations were legally obliged to produce regional news and subsidised it using the more profitable parts of the schedule - is living on borrowed time.
Labour proposed giving third parties TV Licence money to produce programmes, which would be shown on Channel 3.
But this scheme was scrapped by the incoming coalition government.
A newspaper consortium had been due to take over STV's regional news in the autumn.
Instead the Tory-Lib Dem coalition government wants to establish a network of local stations which would not require an ongoing subsidy.
Previous attempts to establish local TV stations in Scotland - such as Lanarkshire Television - have failed.
The report - carried out by a panel led by merchant banker by Nicholas Shott for the UK Culture Secretary Jeremy Hunt - says local TV in Britain may be possible and recommends a number of conditions for establishing stations.
But it also warns of potential difficulties.
The report suggests establishing 10 -12 stations in conurbations across the UK to start with, but warns that Freeview may not be a viable platform for local TV in rural and thinly-populated areas.
Instead it suggests the internet could be a more suitable platform - or more specifically "IPTVs", televisions connected to the internet.
As these become widespread and technology and broadband speeds improve, a television connected to the internet could offer pictures as good as, or better than, those currently broadcast.
It also suggests the local stations would only need to show a few hours of local programmes every day but could work together, effectively as a network, the rest of the time to share cost and content.
Another recommendation is that the local channels should get a prominent position on Electronic Programme Guides.
This could lead to the possibility of the local TV stations becoming a "Channel 6" in a consistent slot across the country although, in practice, this may be difficult to achieve too.
Although questions remain about securing the long-term future of Scottish television news on STV, the company insists it wants to keep on providing a quality news service. It is currently building up a series of local websites.
The company said: "STV is currently reviewing options to build on the success of our locally-focused news services and we will provide further information early in the New Year."
Separately, a panel set up by the Scottish government is currently trying to work out a way of making a public service Scottish channel, the Scottish Digital Network, financially feasible.
The channel - which would be designed to offer public service competition to BBC Scotland - was recommended in a major report into the future of Scottish broadcasting two years ago.
However observers believe the squeeze on public spending means that it unlikely that the Scottish government could commit itself to meeting the cost, while the BBC licence fee has been frozen until 2016.
Suggestions are expected in January.