E-crime warning for shoppers as festive deliveries lag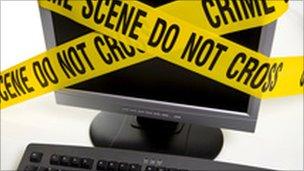 Electronic crime experts have warned shoppers to beware of panic buying from bogus websites in the wake of disrupted deliveries of online orders.
The warning from the Scottish Crime and Drug Enforcement Agency (SCDEA) comes as retailers tackle a backlog of orders caused by last week's severe weather.
The agency said with snow forecast to return, some shoppers may be tempted to buy from less reputable websites.
Officers warned shoppers not to ignore internet safety advice.
The country's main supermarkets and online shops announced several days ago they had stopped taking orders for delivery in Scotland after last week's wintry weather brought the transport network to a standstill.
Det Ch Insp Steven Wilson, of the SCDEA, said criminals would exploit any opportunity to increase profit.
He said: "The Christmas shopping period offers increased opportunities for online criminals anyway, given the increased volume of online traffic and transactions.
"But under increased pressure due to the current disruption to deliveries, people may panic and disregard advice on how to shop safely online.
"Shoppers could potentially end up buying from fake websites and be left sorely disappointed when goods they have paid for fail to turn up at all, never mind late, and they have little or no comeback from a retailer which effectively doesn't exist."
The SCDEA said the most likely forms of attack on computers would involve "phishing" and "malware".
Phishing attacks draw users to a website in an attempt to obtain personal information, such as bank account details and passwords.
Malware, or malicious software, enables criminals to infiltrate a computer and control it remotely, allowing them to steal personal information, send spam e-mails containing malware or host indecent material.
Det Ch Insp Wilson added: "People should always ensure their computer equipment, including internet-enabled smartphones, is protected with the latest anti-virus software and a firewall, and that software updates are downloaded regularly.
"Those who are buying new equipment or software for Christmas or during the sales should make sure that what they are buying includes the most recent versions of software which has the most up-to-date anti-virus package."
Related Internet Links
The BBC is not responsible for the content of external sites.