NHS in Scotland 'facing more cost pressures'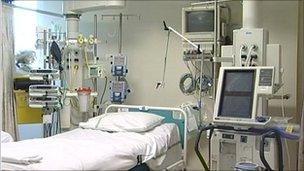 Scotland's health service is performing well but still faces unprecedented financial pressures, an independent report has concluded.
Audit Scotland said last year all NHS bodies met their financial targets.
The public spending watchdog found the service underspent by £43m - about 0.4% of its £10.9bn budget in 2009/10.
But the report warned patients' demands on services were increasing and cost pressures such as pay, fuel and drug prescribing were expected to rise.
At the same time, it said, the year-on-year increase in funding for the health service was slowing down, meaning that all NHS bodies will have to find "significantly more financial savings" to deliver the same level of quality provided in previous years.
Auditor General for Scotland Robert Black said: "In 2009/10 NHS bodies continued their good financial performance of recent years, with all boards ending the year within budget.
"However, they have had to find significant savings to balance their budgets and will need to find even more to continue to do so.
"While the NHS budget will rise in 2011/12, this will be a far smaller increase than in previous years and is likely to be outstripped by rises in demand and cost pressures."
He added: "The health service is taking action to meet the longer term financial challenges. But for these to be successful, it needs good workforce planning, better information on costs, quality and activity, close partnership working and sound leadership."
Health Secretary Nicola Sturgeon welcomed the report.
Ms Sturgeon said: "It is clear the pressure on NHS finances will continue to increase but I am confident that the health service is prepared for the challenges ahead.
"We will work with health boards to eliminate waste and encourage modernisation programmes to increase productivity and efficiency gains, while enhancing the quality of care.
"The priority for health boards must be to deliver key frontline services as efficiently and cost-effectively as possible."
Labour's health spokeswoman Jackie Baillie said the SNP government was "making the problem worse by getting its priorities so badly wrong".
She continued: "It simply doesn't make sense that nurses and midwives are bearing the brunt of the cuts.
"When money is tight we need to ensure that resources go to the frontline where they are needed most. That is why Labour is proposing to save money on bureaucracy by cutting the number of special health boards."
Conservative health spokesman Murdo Fraser said NHS bodies deserved recognition for meeting all their targets.
He commented: "However, we can do more and must not be complacent. Scottish Conservatives are committed to protecting the health budget, but we want to find efficiencies and divert funds to frontline services."
Liberal Democrat finance spokesman Jeremy Purvis said although NHS budgets were tight, there was "definitely room" to save public money so that it could be spent more effectively on frontline services.
He continued: "We want to see better management and purchasing of drugs to bring the bill down by 2.5% year on year.
"There are other areas where money can be saved. NHS top pay is three times higher under the SNP and the highest paid staff in the NHS will still keep £26m of bonuses next year.
"If we tackle these issues now, we can free up valuable resources for the NHS in years to come."
The Royal College of Nursing (RCN) said the report confirmed the findings of its own report - Taking the Pulse of NHS Scotland - which was published last week.
RCN director Theresa Fyffe said: "We agree with Audit Scotland that the level of financial information that health boards provide must be improved and must be linked to their workforce plans, given the need to ensure that the NHS has enough staff.
"Indeed, Audit Scotland has backed up our call for health boards to use the nationally agreed workforce and workload planning tools.
"This would ensure that Scotland has enough nurses with the right skills working in the right places to meet growing patient demand."
Related Internet Links
The BBC is not responsible for the content of external sites.