Aberdeen Airport flights hit by severe weather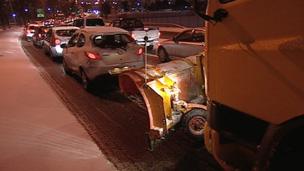 The severe weather is causing disruption to flights at Aberdeen Airport, but all main trunk roads in the north east are now open.
The runway was closed at teatime due to heavy snow falls, and although it has reopened a number of airlines have cancelled scheduled services.
Transport Minister Keith Brown said he was aware snow had caused difficult driving conditions in the north east.
But he added that all trunk roads were open thanks to multi-agency working.
The Met Office issued a severe weather warning of icy roads throughout Scotland, as temperatures hovered just above zero.
The north of the country has been badly hit by the latest cold weather - resulting in rush-hour gridlock in Aberdeen and the city's airport runway being closed for a couple of hours.
Although flights are now coming in and out, a number of airlines have decided to cancel scheduled services.
An Aberdeen Airport spokesman said the disruption would be felt into Friday morning.
He added that it was vital passengers contacted their airlines before travelling.
Mr Brown, who for a second night has based himself at the Traffic Scotland Control Centre, said: "Although the north east of the country is now experiencing heavy snow and difficult driving conditions, all trunk roads are open and Bear are deploying their gritters and other vehicles to help keep the roads open.
"The multi agency presence in the Traffic Scotland control centre is very aware of the situation, with police and operating companies working together to target any emerging problems.
"However, I recognise that there are local problems and for that reason we have offered assistance from our operating companies to Aberdeenshire and Aberdeen City Councils."
Earlier, the Scottish government announced that it had secured further extensions to relax the EU Drivers' Hours rules response to forecasts.
Following a road accident a woman in her 60s has died and three other people were injured in the north east.
The woman, thought to be from the Inverness area, was in a three-vehicle crash on the A96 near Huntly at 1100 GMT.
The other three were taken to hospital in Elgin. A contraflow is now in operation, allowing vehicles to pass on the road.
A man was also taken to hospital in Aberdeen after a car flipped onto its roof on the A96 at the Tyrebagger.
Forecasters said there could be up to 10cm of snow in some areas of Grampian and the Highlands.
Heavy snow showers coupled with high winds on Shetland have made driving conditions difficult.
And all schools on Shetland were closed and some rail services suspended in the Highlands and the west of Scotland.
Shetland Coastguard helped the Scottish Ambulance Service on two separate occasions due to appalling weather conditions in Orkney.
The first involved its rescue helicopter taking a 70-year-old woman from the island of Sanday, Orkney, to hospital in Kirkwall
In the second incident, one of the service's four-wheel vehicles took a 75-year-old patient to hospital, also in Kirkwall.
Several schools in Orkney also had to close, as did some in Aberdeenshire.
Three schools in the Highlands have been affected by the weather.
Ardross and Coulhill primary schools closed early and pupils at Gairloch High School who use school transport were also taken home early.
On the Western Isles, Sir E Scott School shut at 1400 GMT.
Schools in the Stirling Council area did not open until 1000 GMT and there was no school transport, while staff at the local authority's offices were given more time to get to work.
Local authorities had gritting teams working through the night to keep the roads open.
Following the severe weather of the last two weeks, the Scottish government is now operating a six-point plan aimed at keeping the country moving.
Measures include storing salt and grit at key locations on the road network for quicker access, and the possibility of removing central barriers on roads to allow easy access to vehicles that are blocking the carriageway.
ScotRail has been fitting hot air blowers on trains in a bid to remove snow and ice from undercarriages more quickly, and has brought in extra staff to keep stations and trains clear.
A backlog of about four million parcels has developed as private carriers struggle to overcome delays caused by the snow and ice.
Parcel and carrier management firm Global Freight Solutions said it could be the first year in which depots and offices do not clear all their gifts.
"This year in Scotland it is likely Father Christmas won't be coming," said Simon Veale, director of the company.
Dealing with the backlog was like "bailing water out of a sinking ship".
Related Internet Links
The BBC is not responsible for the content of external sites.