Warning over Scots lung disease care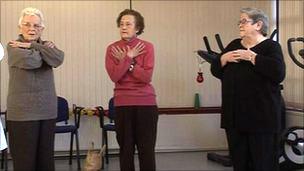 A cancer charity is urging health authorities not to abandon lung disease sufferers because of budget cuts.
The British Lung Foundation in Scotland said care standards for those with the condition have still to be met in many parts of the country.
The call comes after the Scottish government launched its new standards of care policy earlier this year.
Lung diseases, like emphysema and bronchitis, kill more people than breast, bowel or prostate cancer.
The British Lung Foundation in Scotland said that plans to create a "gold star service" for people with lung disease were under threat.
The charity warned that the traditional "Cinderella status" of lung disease could mean thousands of people never benefit from proposals for better support.
Rates of chronic obstructive pulmonary disease, the term used for these conditions, is rising fast due to smoking and Scotland's heavy industrial past which exposed thousands of workers to toxins.
Ex-smoker Hilda Hill was diagnosed four years ago.
She said: "My mouth started to swell up and I was rushed into hospital.
"You can't breathe. Your chest is tight. It really frightened me.
"I wasn't well, I was in hospital for a fortnight."
Hilda was referred to a rehabilitation service in Dumfries and Galloway.
Specialist physiotherapists there work with COPD sufferers to improve their lung function through gentle exercise.
Robert Cameron, 60, was diagnosed with lung disease last year after a lifetime working in the demolition industry.
He says the rehab classes in Dumfries have not only improved his condition, they have saved his marriage.
"There's no cure but I've learned how to cope with it and how to control my breathing and how to control my temper, because the biggest problem was frustration.
"I wasn't able to do things I knew I could do. At one point I was taking it out on my wife, but it wasn't her fault."
In March, the Scottish government published new standards of care for people with chronic obstructive pulmonary disease, which recommended this kind of rehabilitation class for all sufferers.
It would have resulted in the best COPD service in the UK, but so far many health boards have failed to implement it.
Dr James Cant, head of the British Lung Foundation in Scotland is concerned that with cuts on the way, health boards will continue to ignore rehabilitation.
He says that would be a false economy.
"This service delivers value for money twice over.
"It's a win for the people themselves because it gives them a greater sense of freedom, and it's a huge win for the NHS because this is the single most important thing we can do to help people with lung conditions stay out of hospital, but for many generations respiratory medicine has been a Cinderella service."
Chronic lung disease is the second most common reason for admission to accident and emergency in Scotland.
Since coming to classes, Robert Cameron hasn't needed any emergency care and Hilda Hill has been admitted only once.
"It really started getting me breathing properly. I don't think it ever goes, but coming here gives you a new lease of life," said Robert.
Dr Cant says "This should be the standard across Scotland now.
"What we have here in Dumfries and Galloway is an example of what happens when it's done incredibly well.
"The voluntary sector, central government, local government and health boards need to work together to make sure as many places as possible around Scotland have this quality of pulmonary rehab."
A spokesperson for the Scottish government said. "The Healthcare Quality Strategy emphasises our commitment to delivering safe and effective care to all patients and the Scottish government attaches great importance to ensuring that people living with respiratory conditions have access to the care and support they need."
Related Internet Links
The BBC is not responsible for the content of external sites.