Water industry report predicts big savings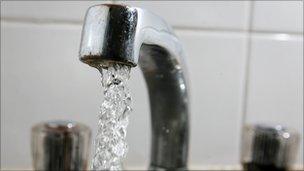 The competition to supply water and sewerage services to Scotland's businesses could deliver more than £100m of benefits over the next decade, according to a new study.
It estimated reduced prices for services would bring savings of about £65m over the next 10 years.
And support from suppliers to reduce the use of water, while heating less of it, should cut more than £50m in costs.
The report was commissioned by the Water Industry Commission for Scotland.
The findings, by consultants Grant Thornton, reflect the impact of introducing competition into the business market for water and sewerage in 2008.
That made Scotland the only country in the world to have competition for supply of all 130,000 businesses, non-profit and public sector bodies.
The upbeat regulator's assessment said there were five companies registered to compete.
The dominant one is Business Stream, which is a commercial arm of government-owned Scottish Water, and which holds all the accounts until customers choose to switch.
The company still has 99% of accounts, but the low pace of switching has increased in the past year. Other companies are Aimera, Osprey, which is a subsidiary of Anglian Water, Satec and Wessex Water.
Another business survey found half of customers are not aware of the choices competition brings them. Public sector bodies are only now starting to address the choices.
One of the biggest customers is a consortium of universities and colleges, tendering for £45m of water and sewerage services.
Grant Thornton reported more than 45,000 customers have taken the opportunity to negotiate better terms from Business Stream, in price or level of service.
Related Internet Links
The BBC is not responsible for the content of external sites.