Scottish juries 'may be told of past convictions'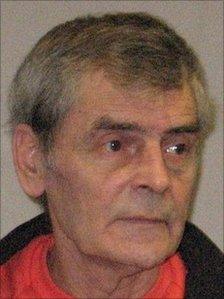 The law banning past convictions from being aired in Scottish criminal trials could be relaxed after a review.
The Scottish Law Commission will consider whether juries should be told of an accused's criminal record.
This is already allowed in English courts and was seen recently when killer Peter Tobin was on trial for the murder of Dinah McNicol in Essex.
Scottish juries are only told of past crimes after a guilty plea or conviction.
The law commission will report to the Scottish government, which will then decide whether to make changes.
The organisation wants to hear views from the legal profession and wider public to inform its report.
In England and Wales, juries have been told about the previous convictions of defendants since 2004.
Last year, the jury at Peter Tobin's trial for the murder of Dinah McNicol at Chelmsford Crown Court in Essex was told that he had been convicted of murdering Scottish schoolgirl Vicky Hamilton and that both girls had been found buried in his garden.
However, the jury at the Vicky Hamilton murder trial, which was heard in Scotland, were not able to hear of his earlier conviction for the murder of Angelika Kluk.
Patrick Layden QC, who is leading the review, said: "The rules of criminal evidence should help ensure that innocent people are not convicted. But they should not stand in the way of convicting the guilty.
"All relevant evidence should be admissible, unless there is some good reason for excluding it.
"Sometimes evidence of previous convictions would be highly relevant but the prosecution is not allowed to refer to it.
"We ask whether this blanket rule remains appropriate or whether it should be possible, in some cases, to refer to the accused's record in proving the present charge."
The commission has not put forward its own view but is publishing a document on its website for public comment.
SNP MSP Stewart Maxwell, who sits on Holyrood's justice committee, said: "Justice must be done and done properly.
"There will be times when prior convictions are relevant to the case and should form part of the evidence used in a court.
"The trial and conviction of Peter Tobin in England last year for the murder of Dinah McNicol exposes the problems of the law in Scotland."
He welcomed the review and added: "It is a complicated area and a series of safeguards will be required.
"I have suggested a pre-trial hearing with a judge to decide if the evidence of prior convictions is relevant to the case and that this is only applicable to the most serious offences."
Related Internet Links
The BBC is not responsible for the content of external sites.