Scotland's prison population still growing, says report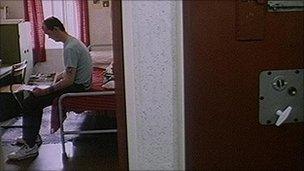 Scotland's prison population is still growing, despite a drop in short sentences and remand numbers.
Government-published figures put the average daily population at 7,964 during 2009-10, an annual increase of 2%, compared to 6% the previous year.
Even though the rate is slowing, is it still "too early to tell" if numbers are levelling out after a decade of growth, said the report.
SNP ministers are opposed to short jail terms, favouring community sentences.
The figures showed the overall population of sentenced prisoners continued a "steady" increase of 5%, reaching 6,441 in the past year.
In contrast, the average daily population of remand prisoners and those serving sentences of six months or less, fell by about 10% each.
The report concluded: "The most recent figures give some indication that the rate of change may be slowing down to some extent since this represents a year on year increase of 2%, compared to the 6% rise during 2008-09.
"However, it is as yet too early to tell whether this represents the beginning of a longer term levelling out of the prison population."
The report went on: "The recent slowing down of the rate of increase is primarily driven by a notable drop in the size of the remand population over the past year.
"However, this is offset to some degree by the more modest but sustained increase in the direct sentenced population."
Overall, the figures said the average female daily prison population increased by 3% to 424, while the male population increased by 2% to 7,540.
The imprisonment rate is highest in Glasgow and Dundee, with Aberdeenshire showing the lowest rate.
Related Internet Links
The BBC is not responsible for the content of external sites.