Rail upset adds to Scots travel misery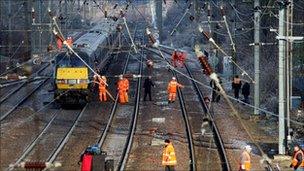 Hundreds of rail users looking to board trains from Edinburgh to London have been urged to delay their journeys.
It comes after a problem with overhead powerlines on the East Coast main line disrupted the service between Peterborough and London.
The weather has also left passengers in Scotland suffering the knock-on effect of airport closures in England, while flights to the Hebrides were also hit.
Black ice on the roads also caused several road accidents in Aberdeen.
Rail passengers setting out from Edinburgh Waverley were being advised that the service was subject to severe disruption.
However, on Tuesday evening, East Coast Trains said it had been able to operate a limited service between Peterborough and London King's Cross.
It follows the termination of services at Peterborough where replacement coaches had been put in place to take passengers to and from Cambridge where they were able to join connecting train services to and from London Liverpool Street.
The disruption comes after many travellers had opted to go by rail to avoid the disruption affecting airports.
Elaine Holt, of East Coast Trains, said: "We have encouraged people to come back tomorrow (Wednesday) and most people are ok with that.
"For those that have to travel today, we have given them other solutions to travel via Sheffield or Nottingham or via other train companies."
For air passengers heading to the mainland from the Western Isles, they were advised to stay in hotels to wait for a ferry in the morning after the severe weather conditions affected flights.
Flights into the Hebrides were also cancelled on Tuesday resulting in some travellers being stranded in Edinburgh and Glasgow.
A spokesperson for Loganair said alternative transport to Stornoway had been provided while afternoon and evening flights were running about three hours late.
Aberdeen Airport said about a quarter of its flights were cancelled because of the weather disrupting Heathrow.
Glasgow and Edinburgh airports have also had many delays and cancellations.
Officials at Heathrow airport in London said no more than a third of all flights would operate until 0600 GMT on Wednesday and warned passengers to expect delays and cancellations, possibly until Christmas Day.
Grampian Police reported a spate of accidents in the snow on Aberdeenshire roads.
They included a woman being taken to Aberdeen Royal Infirmary after being trapped in her car following a crash on the A90 near Stonehaven, a car and snow plough colliding on the A90 Balmedie to Newburgh road, and a lorry leaving the road near Muchalls.
Temperatures dropped overnight to -5C across most of Scotland. However, in Cardrona in the Scottish Borders the temperature was reported to have dropped to -18.
Despite heavy snow falls, particularly in the north east, Scotland has not been as badly affected as it was by the weather two weeks ago.
Schools were affected in Aberdeenshire and some parts of the Highlands on Tuesday, although the impact has diminished with the start of the Christmas break.
Related Internet Links
The BBC is not responsible for the content of external sites.