All Scottish councils accept funding deal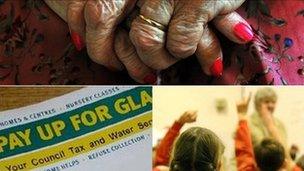 All Scotland's local authorities have agreed in principle to meet the conditions in the Scottish government's draft budget for next year.
Councils were told by the Scottish government they must extend the council tax freeze for another year or face deeper cuts to their budgets.
Thirty-one of the 32 councils confirmed by close of business hours that they accepted the deal.
The final council, West Dunbartonshire, agreed after a special council meeting.
Council group Cosla had already agreed to the offer, but individual councils had to agree to the deal, in which cuts in local authority spending would be limited to 2.6%.
Failure to agree to the Scottish government's package would have resulted in a 6.4% reduction.
Other parts of the deal included guarantees on police and teacher numbers.
Councils signed up to the deal, but some, including Glasgow and Inverclyde councils, criticised the SNP government's approach.
In a letter to Finance Secretary John Swinney, Inverclyde Council leader Stephen McCabe said he would have had to impose a council tax rise of 22% to make up the difference in funding.
The Labour councillor told the SNP minister: "In fact, I would go so far as to say that your government's actions are an affront to democracy."
Mr Swinney said: "Acceptance of the agreement is the best possible outcome for Scottish communities as we deal with the biggest reduction in public spending imposed on Scotland by any UK government.
"As well as delivering a further council-tax freeze, this agreement will maintain 1,000 more police officers than were in post before this government came to office.
"It will secure the delivery of outcomes for Curriculum for Excellence and maintain pupil-teacher ratios to improve education for our children and young people.
"It will protect the number of teacher posts as far as possible and provide resources for a social care fund.
"This restricts local government's average funding reduction to 2.6% - a greater degree of protection than other parts of the Scottish budget, and superior to that for local government in England."
Related Internet Links
The BBC is not responsible for the content of external sites.