Fergus Muirhead answers your consumer questions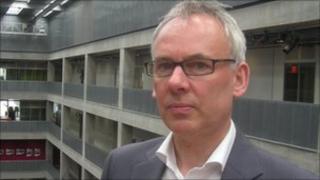 I'm Fergus Muirhead and I'm here to answer any questions you may have about any money or consumer issues.
I'll be dealing with a selection of your queries every other Wednesday on Scotland Live, on Reporting Scotland and here on the BBC Scotland news website.
Please drop me a line here at fergus@bbc.co.uk with your questions.
You can also read more on money and consumer issues on my own blog.
Q. If an airport is closed due to weather conditions who should you claim against for compensation?
A. 'Compensation' is one of these words that is used in different ways in different circumstances and in your question I'm not sure if you mean that you want to have the money you paid for your ticket refunded or that you want some amount of money paid to you to make up for your inconvenience. If it is the former then your airline should make alternative arrangements to get you to your destination or refund the cost of your ticket. Again there are different rules in place if your flight has been cancelled or delayed due to the airport closure and any 'compensation' as a result of delays will be to cover expenses incurred while you wait on your flight. If by 'compensation' you are looking for a payment over and above the cost of your ticket then that is more difficult since the airlines will argue that the delay was beyond its control and you are, therefore, not actually entitled to any extra payments.
Q. I am a council employee in South Lanarkshire whose employers are trying to get staff to either take unpaid leave or use annual leave when they couldn't get to work last Tuesday, Wednesday and Thursday due to weather conditions and the police were advising people not to travel and no public transport provision. Can my employer coerce staff to use their own time unwillingly?
A. This has been a very common question over the last couple of weeks and unfortunately there is no easy answer. You have a contract with your employer which says that you will be paid to turn up and work. Your contract may or may not actually define what specifically will happen in the circumstances you describe, and that have affected thousands of workers recently due to the poor weather. There are probably some exceptions to everything I am about to say here where contracts have been written very specifically but by and large your employer is under no obligation to pay you just because you didn't make it to work - regardless of whether roads were closed or the police advised you not to travel. Now most sensible employers will have had conversations with employees about making up lost time at some point in the future or doing as much work as possible from home or taking the day as a holiday but if all else fails, and in the absence of any other agreement, then most employers will be within the law if they don't pay you for the time you didn't attend.
Q. It would appear the insurance companies will not entertain any claims to have house guttering replaced which have been damaged by the frost and snow. Your comments on this would be appreciated especially in view of the fact claims will be paid for flood damage when there is excess rain and melting snow.
A. I spoke to an insurance broker today about this question and he told me that he was in the process of dealing with a couple of claims at the moment for damaged guttering so it would seem that although some companies are not paying claims as you describe, there are obviously others who are taking a different view, and this is why it is so important to make sure that you read the terms and conditions of any house insurance policy before you take it out. As I understand it there are some insurers who are defining the recent deluge of snow we have had as a 'storm' - because of the amount that has fallen over a relatively short space of time - and therefore the damage to gutters will be allowed as a claim under that section of a buildings insurance policy.
I'm wondering whether, if a house is to be unoccupied for a few days, it is better to leave the heating on low all the time or to have it on during the day and in the evening at the normal temperature?
I think the important thing is that the house is kept warm if you are going away for a few days over the festive period and whether you do that by leaving it on all the time or for a few hours a couple of times a day will depend on how much you want to be paying while you are away and I suppose on the way your individual heating system works. The Association of British Insurers is expecting this to be a record year for claims for burst and frozen pipes - more than £650m is the projected figure that will be paid out to homes and businesses. You can find out more about their recommendations on my blog at www.moneysucks.net but simple steps you can take include making sure that your pipes are well lagged and that you keep your heating on at a low level while you are away. As well as making sure that you take precautions to try to avoid frozen or burst pipes it also makes sense to make sure that your insurance policy covers burst and frozen pipes, and any subsequent damage to your property, while it is empty. Different companies will have different definitions of 'unoccupied so you should dust down your policy document and have a look to see what is covered.