Pakistan International Airlines to cut Glasgow link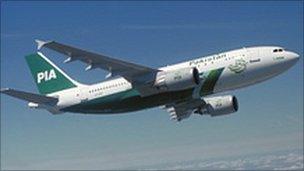 Pakistan International Airlines (PIA) is to stop flying out of Glasgow from next month, it has announced.
The carrier said the service was not attracting enough business and had been running at a loss.
However, the decision has caused anger among Glasgow's Pakistani community, with local MP Anas Sarwar condemning the move.
PIA said the air link, which has operated since 2005, would cease on 22 January.
Businessman Shokat Mubarik, who is a regular user of the twice-weekly service to Lahore, said the decision would make his life more difficult.
He said: "It will be a big inconvenience.
"Most of the Pakistani community in Scotland is from Lahore or places nearby, like Gujranwala or Faisalabad, so it was convenient for them.
"People from all over Scotland use these flights, even from Carlisle, because it's quicker for them to go to Glasgow rather than to travel to Manchester.
"This decision will annoy a lot of people."
Glasgow Central MP Anas Sarwar said he was unconvinced by the airline's reasons for stopping the service.
He said: "PIA has been flying at a 77% capacity and has had a turnover of more than £4m this year.
"These flights have a genuine benefit for people on all sides. Glasgow is twinned with the city of Lahore."
Mr Sarwar said the economic impact of the decision should not be overlooked.
He added: "The city and the airport have been trying to attract big airlines from around the world to fly direct flights through Glasgow to make it a hub within Scotland, to boost the economy of Scotland and to make it an attractive place to come to work, to holiday, and I think this will have a negative impact - I have written to them again."
However, speaking from his office in Karachi, PIA's public relations manager Mahmoon Rashid told the BBC Asian Network: "We've been running at a loss.
"Between January and November 2008 we had 22,916 passengers travelling with us. But between January and November in 2009, it was 22,149.
"We've been flying with a 70% capacity load. We've made losses of £600m rupees, which is equivalent to about £43m and we can't continue like this any more."
Mr Rashid said the airline had been considering the future of the service since 2008.
He added: "We wanted to stop then but after a meeting with over 100 members of the Glaswegian community, it was decided that we should set targets and try to achieve them with their help - but this hasn't happened."
Related Internet Links
The BBC is not responsible for the content of external sites.