Teaching union warning over nursery staff standards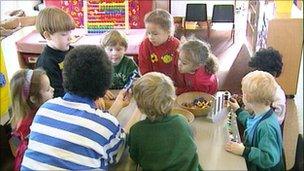 Scotland's nursery teachers are being replaced by staff with lesser skills on lower pay, a teaching union has said.
A report from the Educational Institute of Scotland said children aged between three and five should have access to a teacher for at least five hours a week.
They added that the worst performing councils should be "named and shamed".
The Scottish government said it did not accept the findings and that it was funding more nursery teaching places.
The report, prepared by academic George MacBride, pulled together research examining the provision of nursery education across Scotland.
The EIS said the drive to cut costs among local authorities was lowering the quality of children's education at a formative stage.
General secretary Ronnie Smith said, "Without teachers in all nursery schools and nursery classes, there is the risk that this important early stage of Curriculum for Excellence will start to unravel which will cause greater difficulties for children and their teachers once they reach primary school.
"It is essential that we get this first stage of CfE right, which means that teachers must be involved to ensure a quality educational experience for all young children."
In response, Isabel Hutton, from the Scottish council's umbrella body Cosla, said: "We have known for sometime that the quality of services depends on having a well qualified workforce.
"This remains our aim, and it is the job of local authorities to try and get the right balance of qualified teachers and other professionals to ensure children and families get the best possible service."
A Scottish government spokesman said they were "well aware" of the importance of pre-school education.
He said that there were legal obligations on councils to provide appropriate nursery staff and that the government had expanded the legal entitlement to 475 hours per annum - "delivering around eight million more hours for Scottish children".
He added: "We do not accept that the concordat presents a danger to pre-school education, as a joint commitment to expand access to teachers was, in fact, set out in that document.
"Over the last two years, more than 9,000 more children had access to teachers in pre-school settings which represents steady progress against a worsening financial picture.
"We are funding Strathclyde, Stirling and Aberdeen universities to provide courses which offer more specialised early years teaching skills.
"Local decisions on teacher deployment are for councils to negotiate with their partners.
"There is no robust evidence on the amount of teacher time which is needed to improve children's outcomes but we are clear that occasional or ad hoc access is unlikely to achieve such improvements."
Related Internet Links
The BBC is not responsible for the content of external sites.