Lorry driver work hours extended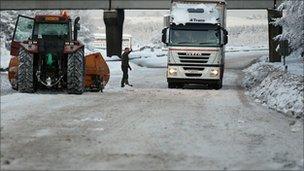 Limits on lorry drivers' working hours have been relaxed to make sure food reaches shops over the next three days.
Special measures are also being applied to ensure banknotes reach Scottish cash machines as the post-Christmas sales get under way.
The Department of Transport has allowed food delivery drivers throughout Britain to work an extra hour each day, with a reduced rest requirement.
The move is a result of snow and ice slowing travel times.
The UK Government is allowed to relax European rules under such unusual conditions.
The special rules for food run until midnight on Monday.
Rules to ensure fuel, animal feed and aircraft de-icer reach customers throughout Britain remain in place until January.
The Whitehall department had relaxed rules for all Scottish lorry deliveries, but that ends at midnight on Christmas Eve.
The special case for cash deliveries to Scotland's automated teller machines was approved on 23 December.
It extends the collection of cash from supermarkets, at a crucial time for retail sales.
The temporary rules state that drivers can increase their driving time from a maximum of nine to 10 hours.
The minimum time between working shifts is being cut from 11 to nine hours.
Drivers will still be required to take a break of at least 45 minutes after four and a half hours driving.
According to a Department of Transport statement: "Driver safety must not be jeopardised. Drivers should not be expected to drive whilst tired. Employers remain responsible for the safety of their employees and other road users."
Andrew Opie, food director of the British Retail Consortium, said: "Everyone involved - retailers, suppliers, hauliers - have been putting in huge efforts to keep stores open and well-supplied over the last four weeks of bad weather.
"The absence of shortages is a tribute to their efforts and the resilience of the supply chain.
"This common sense response from the Department for Transport to the BRC's request on drivers' hours means it will be that little bit easier for supermarkets and other grocery stores to keep shelves well-stocked throughout the country and throughout the holiday period."