Plane, bus and ferry to get islanders home at Christmas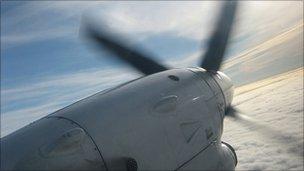 People trying to get to the Western Isles for Christmas have been facing a journey using a plane, bus and ferry.
Thick ice has closed the runway at Stornoway Airport on Lewis preventing flights from Glasgow and Edinburgh from landing there.
The flights have been diverted to Inverness and from there taken by coach to Ullapool and then travel by ferry to Stornoway.
Ground crews had managed to clear ice from Benbecula Airport's runway.
Highlands and Islands Airports Limited (Hial) said the ice problem had affected all Christmas Eve flights to and from Stornoway.
Managing director Inglis Lyon said: "We have had an issue with the ice on the runway which has proved incredibly stubborn to move.
"We have had folk out there from very early this morning to try and get the ice moved and it is just moving very, very slowly.
"So what the airline has elected to do is put the passengers on the planes from Glasgow and Edinburgh heading to Stornoway to now come up to Inverness.
"Coaches have been set up to take them up to Ullapool, get them on the ferry and home for Christmas."
Related Internet Links
The BBC is not responsible for the content of external sites.