'Dedication' of emergency workers praised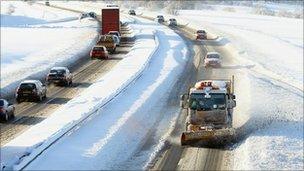 Scotland's deputy first minister has paid tribute to emergency staff for keeping Scotland running over Christmas.
Nicola Sturgeon said workers had shown "extraordinary dedication" in coping with the recent extreme weather.
Thousands of police, fire and ambulance service workers were on hand to deal with 999 calls.
Ms Sturgeon's comments came as the Met Office warned drivers to take care as roads across Scotland were hit by ice.
The number of people working over Christmas included more than 700 Scottish Ambulance Service staff and at least 3,300 firefighters, retained firefighters and fire control room staff.
Ms Sturgeon said: "For most of us, Christmas Day is a time to stay at home with our families enjoying a peaceful and relaxing day, but for these 999 staff it's been another day at work.
"They left their homes and families yesterday to make sure the rest of us were as safe and well looked-after as possible.
"Coping with the weather and working over the holidays, the contribution of our police, fire and ambulance service staff has once again given us all reason to be grateful to them."
Also paying tribute, Justice Secretary Kenny MacAskill, said: "The snowy and icy weather over the last few weeks has shown once again just how committed our police officers and firefighters, their support staff and ambulance service colleagues are.
"Yesterday they gave us all even more reason to be grateful."
Related Internet Links
The BBC is not responsible for the content of external sites.