Burst pipes cause flood problems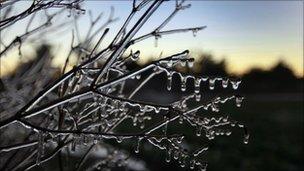 Fire crews have been dealing with hundreds of flooding incidents after a sudden rise in temperatures led to problems with burst pipes.
Christmas Day saw the mercury rise above freezing in Aberdeen, Edinburgh and Glasgow for the first time in days.
While many people welcomed the milder temperatures, the thaw has caused flood damage to many homes and businesses.
Strathclyde Fire and Rescue said it had attended more than 200 call-outs on Saturday alone.
Fire crews have also been forcing their way into empty properties to turn off water and power supplies.
In the Lothians, crews were called to McDonalds in the Almondvale Centre, Livingston, as well as properties in Dalkeith, Harthill and Oxgangs.
Rescue services in central Scotland, Grampian, the Highlands and Tayside said they had also received calls.
Temperatures rose by more than 5C in some regions on Saturday - from below freezing to 3.1C in Edinburgh, 2.9C in Aberdeen and 0.6C in Glasgow.
While temperatures dipped again through the night, they were expected to reach 4C in Glasgow on Sunday and 2C in Edinburgh and Aberdeen.
Transport Minister Keith Brown said: "Though everyone will welcome the news that temperatures may creep back over zero, the change will bring new challenges.
"We need to look out for the three Bs - burst pipes, blocked drains and black ice - and keep away from ice on lochs, ponds and canals as the thaw comes.
"The Ready Winter pages on the Scottish government website have good advice, and they've been getting lots of hits through the recent severe weather."
The minister praised the efforts of people across Scotland during the recent extreme weather.
He said: "I want to thank everyone - from front-line responders to next-door neighbours - who is helping get Scotland through the bad weather.
"It's been hard work, shift after shift, but it's been hugely appreciated, especially over Christmas Eve, Christmas Day and Boxing Day."
However, despite the rise in daytime temperatures, the Met Office has issued a severe weather warning of icy roads and heavy snow for the south of the country, central Scotland - including Strathclyde and the Lothians - and Perth and Kinross.
Fresh snow falls of between two and five centimetres at lower levels is forecast, with 10 cm over the Southern Uplands, Perthshire and Stirlingshire hills also expected.
The government has also urged householders to look out for elderly, frail or vulnerable neighbours during the festive period.
Rural Affairs Secretary Richard Lochhead said ministers were working with fuel suppliers, the emergency services and public agencies to ensure people were warm as the extreme weather continued.
Callum Chomczuk, for Age Scotland, said: "At this time of year, particularly with the bad weather, it is important we look in on our neighbours.
"Making sure they are warm and have food and water can make all the difference to them, and you can never underestimate the importance of having someone to talk to."
Related Internet Links
The BBC is not responsible for the content of external sites.