Black ice warning for motorists in Scotland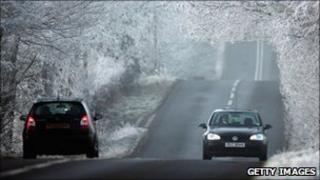 Motorists have been advised to drive carefully after a warning of black ice on roads across Scotland.
The alert came after drivers were told to limit their speed to 30mph on Scotland's motorways over the weekend.
The Met Office issued a severe weather warning on Sunday, predicting widespread icy roads until Monday.
Heavy snow is also affecting many roads in central Scotland, with police warning that driving conditions on the A9 were difficult north of Dunblane.
And on the A90 southbound at Brechin, Tayside Police are dealing with a jack-knifed lorry. Police said HGVs were being "stacked" but smaller cars are being let through.
There is also a risk of snow in Strathclyde, Fife, Lothians and southern Scotland.
The Met Office predicted that a few centimetres could fall at lower levels, with 10cm over the Southern Uplands, Perthshire and Stirlingshire hills.
However, a thaw has set in across many parts of Scotland and forecasters predicted that temperatures would remain above zero on Monday, reaching 3C to 4C in Glasgow, Edinburgh and Aberdeen.
The milder weather has caused flooding problems, with many burst pipes.
At 0800 GMT, Strathclyde Fire and Rescue said that it had attended 80 calls since 1800 GMT on Sunday, while Tayside Fire and Rescue also dealt with numerous calls.
Forecasters said the thaw was likely to continue throughout the week.
Rain will be mostly in southern and central parts with sleet and snow over higher ground.
The enhanced content on this page requires Javascript and Flash Player 9
Map Key
Land
Cloud
Lakes, Rivers & Sea
Fog
Light
Heavy
Frost
Light
Heavy
Pressure Fronts
Cold
Warm
Occluded
Rain
Light
Heavy
Extreme
Snow
Light
Heavy
Temperature tab only
Temperature (°C)
More details from BBC Weather