Call to secure Scotland's Post Office network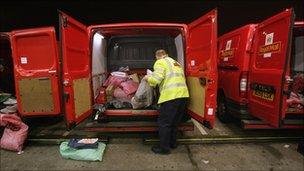 MPs have demanded more assurances that Scotland's Post Office network will be fully preserved, particularly in rural and deprived urban areas.
Members of the Scottish Affairs Committee warned that despite a planned funding rise, many post offices "remain vulnerable to closure".
The Postal Services Bill is currently making its way through the Commons.
Private buyers will be allowed to own up to 90% of the Royal Mail, with at least 10% of shares going to employees.
The UK government would also assume responsibility for the group's pension deficit.
The committee was given assurances that the "universal service obligation" - which maintains the six-days-a-week delivery and collection service and ensures customers pay the same price across the UK - could only be changed following a vote in both the Commons and the Lords.
Committee chairman Ian Davidson said: "What is much less clear is the long-term future of the Post Office network. Good intentions are all very well, but the lack of solidity in assurances regarding the postal network is worrying.
"Postal services and the postal network are the life-blood of many rural, remote and island communities throughout Scotland and the survival of many small businesses depends on the network.
"Yet it remains unclear how the Postal Services Bill will protect consumers in deprived urban, rural and remote areas of Scotland."
Scotland currently has 1,446 post offices - 12% of the UK network - with 70% of branches in rural areas and 171 post offices in the most deprived communities.
The committee report warned that the network in Scotland was in a "precarious position financially" with many rural post offices funded through a subsidy, leaving them vulnerable to closure.
The MPs urged the UK government to take appropriate measures to secure a "viable and sustainable network" in Scotland and to give assurances on preserving the existing network of branches.
The report recommended the bill should include a requirement for industry regulator Ofcom to consult with consumers, small businesses and vulnerable users in remote, rural and island communities in Scotland before any potential changes to the universal service obligation.
In response to the report, Scottish Liberal Democrat President Malcolm Bruce said protecting the Universal Service was at the heart of the government's plans for the Royal Mail.
The MP for Gordon said: "There will be a change in public ownership, there will be no Post Office closure programme as Labour planned and the government will seek to support the Post Office network in efforts to diversify."
Related Internet Links
The BBC is not responsible for the content of external sites.