Winter flu claims two more lives in Scotland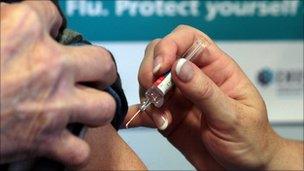 Two people have died from seasonal flu in the last week, bringing the total number of deaths in Scotland this winter to four.
Twelve people were also hospitalised in the last week, bringing the total so far to 23.
The NHS in Scotland said the figures were to be expected at this time of year.
However, the number of pregnant women having the flu jab has gone up from 19% last week to 27% this week.
The Scottish government report showed the rate of GP consultations for flu-like illness across Scotland was 55.8 per 100,000 people, an increase from last week's figure of 45.8 per 100,000.
The highest rates were observed in children under the age of one, with 288 and 186 infants per 100,000 population for the previous two weeks respectively.
The one to four years age group attending GP surgeries with symptoms was also high, at 244 and 251 per 100,000 population.
These rates are less than seen at the same time last year.
The flu jab uptake rate for people under the age of 65 who are eligible for the vaccine has reached 48.4%.
Amongst those aged 65 and over the rate stands at 71.5%.
The government report revealed, of the 360 laboratory confirmed cases of influenza reported over the last 11 weeks, 237 tested positive for swine flu (H1N1), while the remainder were positive for other flu strains.
Health Secretary, Nicola Sturgeon, said: "We are seeing the number of people consulting their GP with a flu-like illness starting to increase, but not yet above the levels that would be expected at this time of year.
"The highest rates are among the under fives.
"The majority of healthy children experience mild symptoms from flu and current expert advice is that they do not need to be vaccinated.
Ms Sturgeon added: "Children with an underlying health condition, such as asthma, should get the vaccine.
"Decisions on who should receive the seasonal flu vaccine are based on recommendations from the Joint Committee on Vaccination and Immunisation, an independent panel of experts that provides advice to all UK health departments."
Chairman of the BMA's Scottish GP committee, Dr Dean Marshall, said: "Although recent figures show that the number of people with flu is up from last week, thankfully the number of eligible people receiving the vaccine has also increased.
If they have not already done so, I urge pregnant women, people over 65 and those who are at risk under 65, to contact their surgery to receive the vaccine.
"The vaccine has been thoroughly tested and protects those at risk from serious complications from the flu.
"It can, quite simply, save your life."
Related Internet Links
The BBC is not responsible for the content of external sites.