New Year messages focus on May elections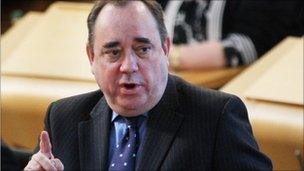 The first minister has said Scotland faces a "year of decision" in 2011.
With elections just over five months away, Alex Salmond used his traditional New Year message to highlight the choice voters would face.
He said people could choose between a "better future", with more powers for Scotland, or a "generation of fighting against London control" with continued cuts to public services.
Labour leader Iain Gray also focused on the election in his address.
He urged Scots to "make a change" when they go to the polls in May.
Mr Gray said the SNP, who won power for the first time in 2007, had let the country down badly and claimed Mr Salmond would leave behind a "legacy of failure" after his four years as first minister.
The SNP leader, however, highlighted the freeze on council tax and the phasing out of prescription charges as some of the "absolutely necessary" help his minority administration was providing for families during tough financial times.
Mr Salmond stressed Scotland's "real resource" was its people, adding: "It's the people that matter in 2011 because 2011 is going to be a year of decision for Scotland.
"We know what the future holds if we stay in our present circumstances with the big economic decisions dictated by London.
"We would face a generation and more of continued cutbacks in our public services.
"Even if we withstand that and campaign against it, there will be threat after threat.
"But there is an alternative, there is another option, and that's why there is a decision to be made.
"That option is to gain economic independence and control, which will enable us to mobilise these great resources of Scotland, apply them to the human resources of the people of Scotland and generate growth and wealth in our own economy."
But Mr Gray said Scotland was facing an "anxious and uncertain New Year".
Scottish Labour's Holyrood leader said: "So many people are worried about jobs and the future of their families as the full impact of the Tory-led government cuts hit home.
"Meanwhile, Scotland has been let down badly after four wasted years by the SNP government as Alex Salmond leaves behind a legacy of failure."
But he said the election in May would give voters the opportunity to "make a change" and pledged: "If I become first minister, my commitment is to create more jobs to equip Scotland for a 21st Century global economy and protect the ones we have.
"Our young people also deserve hope for the future and that's why Labour will guarantee an apprenticeship for every qualified school leaver who wants one.
"We will also set up a Future Jobs Fund to provide 10,000 new jobs and a living wage so no one in work is left behind."
Mr Gray added: "These are just some of the changes I promise because, as I said, Scotland deserves better."
Related Internet Links
The BBC is not responsible for the content of external sites.