Scots named in New Year Honours list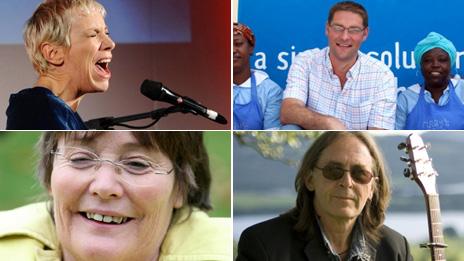 Politicians, musicians and artists are among the Scots named in the New Year Honours List.
Anne Begg, the first full-time wheelchair-user to become an MP, is made a dame for services to disabled people and equal opportunities.
Singer Annie Lennox is awarded an OBE for her many years of charity work.
Other Scots recipients include artist John Lowrie Morrison, the folk singer Dougie Maclean, and Magnus MacFarlane-Barrow, the founder of Mary's Meals.
Anne Begg was elected MP for Aberdeen South in 1997, after a career as a secondary school teacher.
Since entering parliament, she has chaired the all-party group on equalities, the all-party group on chronic pain and is now chairwoman of the work and pensions select committee.
The 55-year-old from Angus was born with Gaucher's disease, a rare genetic condition which causes regular bone breakages, and has used a wheelchair since 1984.
She said she was "humbled" to receive the honour.
"I am still a bit stunned and still coming to terms with what this means," she said.
Former Eurythmics singer and charity campaigner Annie Lennox said she was "genuinely honoured" to be appointed an OBE.
The Aberdonian, who is now a solo artist, joked that she was getting her hat ready for a visit to Buckingham Palace.
"As somewhat of a renegade, it either means I've done something terribly right - or they've done something terribly wrong," she said.
"In any case, whatever powers-that-be have deemed me worthy of such a recognition, I'm getting my fake leopard pillbox hat dusted and ready."
The 56-year-old has long campaigned to raised awareness of Aids in Africa and in 2007 established SING, inspired by Nelson Mandela, to help children and women affected by the disease.
Lennox has also worked as a Unesco Goodwill Ambassador for Aids.
John Lowrie Morrison said receiving his OBE was "a simply marvellous honour".
The painter, who is best known for his contemporary Scottish landscapes and signs all his work Jolomo, is honoured for services to art and charity in Scotland.
He said: "Painting and the Scottish landscape have been lifelong passions for me and there are charities whose fantastic work my wife and I are hugely keen to support.
"It's great to be recognised in this way for doing things you love."
Another recipient of the OBE, Magnus MacFarlane-Barrow, founded Mary's Meals, which aims to give the world's poorest children a meal a day.
He started the charity in 2002, following an encounter with the children of a woman dying from Aids in Malawi.
The 42-year-old said: "I feel that the honour is a recognition of the hard work of everyone who has been involved in the Mary's Meals journey, giving their time, resources and love to help us to grow from a tiny group of volunteers carrying blankets to Bosnia, to an international charity that is feeding more than 450,000 school children worldwide."
Singer Dougie Maclean, who is best known for penning the folk ballad Caledonia, has been honoured for his services to music and charity in Scotland.
He said he was gobsmacked to become an OBE and said he could not "wait to tell his mammy".
Speaking from his home in Perthshire, he said it was "a great thrill" to be recognised after 36 years in the music business.
"The letter dropped through the door a few weeks ago and I couldn't believe it," he said.
"It's only this morning that I've accepted the fact that it's actually real. It's a great thrill to be honoured in this way."
The 56-year-old has been involved in a number of charities over the years, including homelessness charities the Cyrenians and Shelter.
Other people recognised in the Queen's New Year Honours include George Kerr, one of the top judo experts and president of the British Judo Association.
The 73-year-old becomes a CBE for his services to judo, which comes just months after he was awarded the Order of the Rising Sun by the Emperor of Japan.