New year messages look to election choices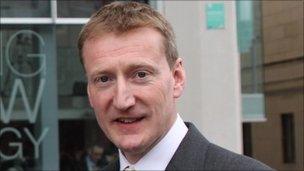 The year 2011 could mark the start of a "better future" for Scotland, Liberal Democrat leader Tavish Scott has said.
In his new year message, Mr Scott said that people wanted the government to take decisions for the good of "the country, not for any political party".
Scottish Conservative leader Annabel Goldie focused her new year message on the "influence her party has had on government to deliver for Scotland".
She said they had an impressive record to put before the voters.
With the Holyrood elections just five months away, Mr Scott said: "I want so much better for Scotland in 2011 than we've had.
"And I don't just mean the weather.
"People want a Scottish government where we take the right, long-term decisions for the country, not for any political party.
"Take decisions that can build a stronger, better and more prosperous Scotland.
"So I want the new year to start the process of building a better future for our country: to protect and create new jobs, to give real control to local people over the public services they depend on and to restore Scotland's reputation for excellence in education."
Mr Scott said the Liberal Democrats wanted Scotland to have "the most innovative and entrepreneurial economy in the world" and to be one of the most energy-efficient nations with high-achieving youngsters.
But he stressed people had to play their part in achieving this, stating: "Politicians can't do this. People across Scotland can.
"It will be a Scotland where hard work and innovation are rewarded, but one where government will invest, educate and support to make sure it is fair.
"That's the Scotland I want to begin to build and 2011 is the year to begin."
Ms Goldie said she was proud to be leading the Scottish Conservatives into an election campaign with "an impressive record of achievement to put before the voters."
She added: "It is thanks to the Scottish Conservatives that there are more than 1,000 extra police in our communities, lower tax for our smallest businesses and a multimillion-pound town centre regeneration fund.
"It is the Scottish Conservatives who have delivered a new national drugs strategy and new rules to try and keep our rural schools open.
"And without the Scottish Conservatives there would not have been a three-year council tax freeze giving real help to millions of taxpayers across Scotland.
"All of that has been achieved with 16 Conservative MSPs.
"But the key challenge now facing all of Scotland's politicians is to face up to the tough choices ahead.
"There are going to be cuts. There is less money to spend. We owe it to the public to tell it like it is.
"My fear is that the long grass of beyond the election is proving irresistible to the other parties. Alex Salmond and Iain Gray are putting their short-term popularity ahead of the national interest.
"Their watchwords seem to be 'don't frighten the voters'.
"But that attitude is patronising and wrong. It is hiding the truth from voters. It denies reality. It does a disservice to politics."
Related Internet Links
The BBC is not responsible for the content of external sites.