Scotland sends more bottled water to Northern Ireland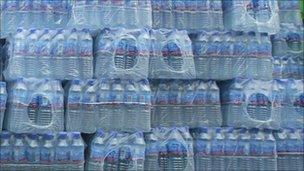 The Scottish government is sending further supplies of bottled water to Northern Ireland.
Five lorry loads - approximately 120,000 litres - of water will be sent on Friday to help authorities meet the needs of households which are cut off.
A further two lorry loads are due to be sent on Saturday.
The delivery of water is being carried out by Scottish Water following an agreement between the government and the NI Assembly.
Scottish Water said its contingency supply of bottled water had been increased from the normal level of 300,000 litres to 400,000 litres.
Its supplier has a further 500,000 litres available to be drawn on as required.
Infrastructure Minister Keith Brown said: "With Scottish Water's own contingency supply of bottled water significantly boosted, it is absolutely right that we should do more to help Northern Ireland and householders there who are still without a water supply.
"That is why we are responding to a request from our neighbours and will be sending extra shipments of around 120,000 litres of bottled water, with two further lorry loads due to travel on New Year's Day.
"We are well aware of the effects of severe weather here in Scotland and are committed to helping our neighbours if at all possible."
Scottish Water estimated that between 200 and 250 homes in Scotland had no water as a result of problems with its network.
Mr Brown said that in these circumstances Scottish Water would deliver bottled water and take action to restore the supply.
He added: "Scottish Water have also made clear that, where customers have frozen private pipes in their own domestic properties, they are encouraged to make their own arrangements to get bottled water.
"However, if customers find themselves in a vulnerable position and cannot do this, Scottish Water will endeavour to supply bottled water."
Scottish Water's Customer Service Delivery Director, Peter Farrer, said: "We have been working at full capacity for several days, and have deployed extra resources, to deal with the impact the extreme weather has had on our customers in Scotland.
"With so many people experiencing unprecedented problems with their water supply in Northern Ireland, we believe it is correct for us to respond to a request to assist in this extreme emergency."
Related Internet Links
The BBC is not responsible for the content of external sites.