Scotland welcomes first babies of New Year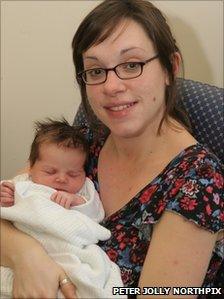 New parents across Scotland have been celebrating the New Year with the arrival of their bundles of joy.
As fireworks exploded above cities and towns across Scotland, midwives at Wishaw General Hospital delivered the first baby of 2011.
Parents Jennifer Britton and Scott Morton had Jacob at 30 seconds past midnight, weighing 7lb 13oz (3.540kg).
In Glasgow, Amber Jane Moss entered the world at 0011 GMT on 1/11/11 at Princess Royal Maternity hospital.
The 6lb 5oz (2.85kg) girl was the first baby for parents Fiona and Darren Moss from Cambuslang.
Mrs Moss said: "It was a bit of a shock as she wasn't due till the 19th so she arrived really early.
"I only finished work yesterday so it has all happened quite fast."
A few minutes later at 0018 GMT Claire Sanderson and Danny Cragg welcomed the arrival of their daughter Maya at Raigmore Hospital in Inverness.
Parents Julie and Steven Innes welcomed an 8lb 10oz (3.91kg) boy at the same hospital at 0037 GMT.
Wishaw General Hospital enjoyed a bumper start to 2011 with two other boys arriving in the early hours.
Pamela Kerr and Allan Yule welcomed a 4lb 10oz (2.110kg) son at 0149 GMT.
At 0241 GMT a boy was born to Fiona and Scott Allan, weighing 7lb 11oz (3.480kg).
Marte MacBrayne, from Lochgilphead, Argyll, and her partner Lorne had their daughter Elin at Paisley's Royal Alexandra Hospital at 0231 GMT.
Four hours and 16 minutes after the bells rang in Edinburgh, a boy was born to parents Pauline and Brian Bell at the Royal Infirmary of Edinburgh, weighing 6lb 12oz (3.05kg).
The first baby to arrive at Aberdeen Maternity Hospital was an 8lb 5oz (3.77kg) boy at 0140 GMT. Mum Izabela Drozd named her new son Adrian.
At Ayrshire Maternity Unit at Crosshouse Hospital, Kilmarnock, Jennifer Edmiston, from Kilmaurs, welcomed daughter Rhian Higgins, who arrived at 0208 GMT, weighing 6lb (2.72kg).