Anger over pandemic flu cash diverted to 2014 Games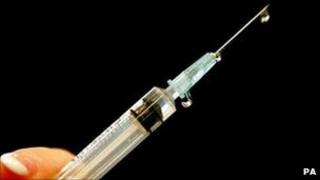 Plans to divert £10m from the Scottish pandemic flu budget to the Commonwealth Games fund have come under fire.
Labour's health spokeswoman Jackie Baillie criticised ministers for pledging to transfer money set aside for extra vaccines and antivirals.
She said the ongoing threat of a swine flu pandemic meant it was the wrong time to take cash away from the budget.
However, Health Secretary Nicola Sturgeon said the country still had an adequate stockpile of flu treatments.
Two people died from seasonal flu in Scotland in recent weeks, bringing the total number of deaths north of the border this winter to four.
Scottish government statistics show that of the 360 confirmed cases of influenza reported over the last 11 weeks, 237 tested positive for swine flu (H1N1).
Ms Baillie's criticism focused on the diversion of money initially allocated to flu in the Scottish government's draft budget.
The budget said: "The £12.6m additional funding for Commonwealth Games 2014 in 2011-12 has been identified from contingency funding for pandemic flu together with procurement efficiencies within eHealth."
Ms Baillie told BBC Scotland: "I am genuinely worried at a time when the incidence of swine flu is in fact increasing, there is that £10m cut in the contingency budget to deal with it.
"As the country goes back to work and back to school, we're expecting cases to soar and GP consultations to go up quite substantially.
"In England, their cases are rising by about 40% - which is really significant.
"What tends to happen down south usually comes to Scotland roughly two to three weeks later.
"I think we are about to face exactly the position that's emerging in England. We therefore expect government, quite rightly, to plan ahead."
However, Scotland's Health Secretary Ms Sturgeon said there were more than enough stocks of vaccines and antivirals.
"That budget we're talking about was a capital budget set aside for the pandemic we dealt with last year, in case we needed to buy additional vaccines and antivirals to deal with that pandemic situation," she said.
"We didn't need to do that - we had sufficient vaccines to administer the vaccination programme - and we have a remaining stockpile of vaccine.
"The vaccine for this year's seasonal flu campaign is completely separate to that."
A Scottish government spokesperson said: "£10m came from the pandemic flu budget and £2.6m from eHealth. None comes from the new £280m being spent on the health budget.
"It is a combination of contingency money and efficiency savings."